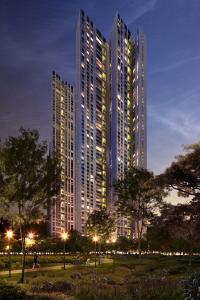 Real estate developer Lodha Group on Tuesday announced over Rs 10,000 crore (Rs 100 billion) investment in a new project in the island city.
The project, titled New Cuffe Parade, will come up at Wadala and is spread across 23 acres over the next five to seven years.
The project will comprise commercial as well as residential towers, said company Chairman and Managing Director Abhisheck Lodha.
The 23-acre plot is part of the 250-acre land bank that the company had bought from the Mumbai Metropolitan Region Development Authority for Rs 4,053 crore (Rs 40.43 billion).
Last year, the authority had invited bids for developing a 101-storied iconic tower at Wadala on design, build, own, operate and transfer basis.
While other three bidders Sunteck India, Indiabulls Real Estate and Gaurhari Estate had quoted Rs 3,465 crore (Rs 34.65 billion), Rs 3,327.50 crore (Rs 33.27 billion) and Rs 2,251.99 crore (Rs 22.51 billion) respectively, Lodha had quoted Rs 4,053 crore (Rs 40.53 billion)
and emerged as the highest bidder.
According to sources, Lodha, however, had to scrap the plan of constructing an iconic tower after it failed to receive clearance from the Directorate General of Civil Aviation.
The company is facing similar problem for the 17-storeyed World One project at Worli in central Mumbai where the DGCA granted permission only for 90 floors.
An international agency is still studying the proposal for the other 27 storeys.
Speaking about the New Cuffe Parade project, Abhisheck Lodha said: "The project will be a planned development by the best minds in urban planning, making it a world-class destination."
The project in its first phase will consist of a pair of 63-storied towers, and will have 15 acre of green space.
"While 75 per cent of the land will be dedicated to development of gardens, on the remaining 25 per cent, 70 per cent will be development of residential towers and 30 per cent for commercial and retail space," he said.
The project is designed by WOHA, a leading green architects for high-rise buildings.