By roping the Bollywood star, the professional networking platform looks for wider appeal and a mass audience, reports M Saraswathy.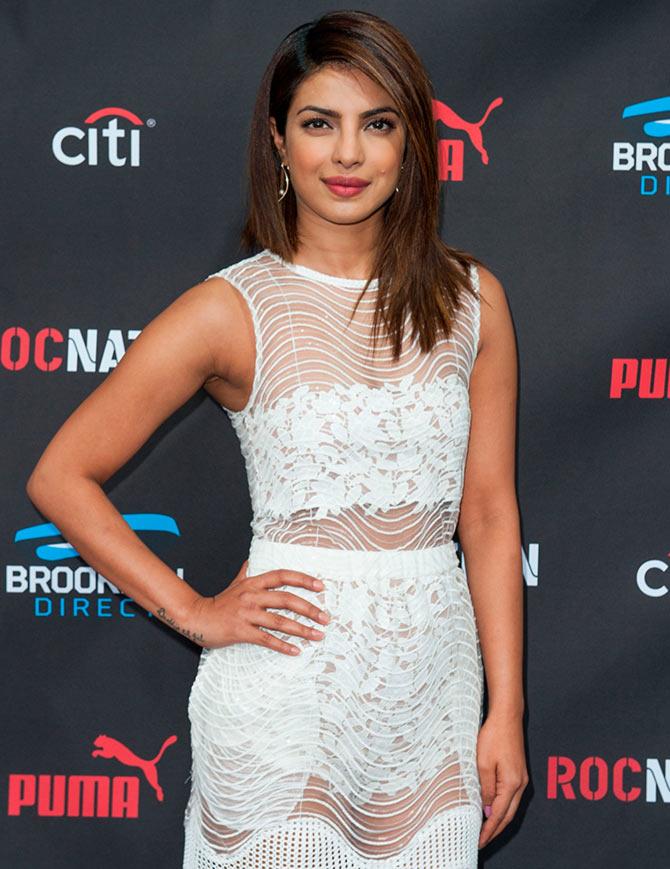 Priyanka Chopra has joined LinkedIn's list of 500 plus global influencers, a band of rich, famous and powerful people who drive conversations, draw in the crowds and steer public debate on the platform.
She joins the likes of Prime Minister Narendra Modi and Kiran Mazumdar Shaw (chairman and MD, Biocon) from India and Bill Gates and Jack Welch, globally.
By lending her name, Chopra is expected to not just liven up the proceedings but also establish LinkedIn as a more mainstream brand and help shed the popular notion that the platform is nothing more than a Facebook for job seekers.
Positioned as one among 16 key influencers from India, Chopra joins a haloed list of thinkers, entrepreneurs and politicians. On the global list are big names such as Alan Joyce (CEO, Qantas), Indra Nooyi (chairman-CEO, Pepsico), Ban Ki-moon (Secretary General, United Nations) and America's well known talk-show host Oprah Winfrey among others.
Chopra is the first Indian actor on the team and many believe that the move could end up influencing her brand value as much as that of the brand she is endorsing. It could also expand the list of brands seeking her endorsement.
'I've always had a penchant for business but am only just beginning to give wings to my entrepreneurial ambitions. It's a whole new experience. So what better way than to connect with this vibrant community. I'm honoured to be a part of such a distinguished group and looking forward to the conversations,' Chopra said.
LinkedIn influencers are selected by invitation only.
As leaders in their industries and geographies, they discuss newsy and trending topics such as the future of higher education, the workplace culture at Amazon, the plunge in oil prices, and the missteps of policymakers.
In her first post that went out on Monday, November 7, Chopra talked about her journey from Bollywood to Hollywood and American television and the lessons that she learnt during this process.
"Priyanka Chopra's debut on LinkedIn underscores how far we have come and our desire to invest to become even more relevant to audiences in India and globally," said Akshay Kothari, country manager, LinkedIn India.
The social networking platform has 39 million members in India.
Kothari said the aim is to provide customised attention to every member on LinkedIn. For that, it is important to bring about a greater diversity in terms of membership and in the ways in which the platform is used.
By getting Chopra on board, LinkedIn hopes to do both.
The expectation is that she will be able to engage with a younger audience with varied interests. While the LinkedIn team also provides relevant ideas, Kothari makes it clear that most influencers are their own people. They choose what they want to write about.
In her first post, Chopra says '...in reality once you've won the battle with yourself every other hurdle you face seems easy to overcome because you will approach it with the courage of conviction that this is exactly what you want.'
Kothari explained that the aim was to keep members informed and connected to the world around them.
Getting Chopra on board, he said would also help them go more mainstream and this was a mutually beneficial partnership. While on one hand, he added that they have a popular icon on board, "Chopra will also be able to access like-minded professionals and entrepreneurs through our platform."
The professional networking site looks at the icon's popularity and the work they do among other factors while zeroing in on a celebrity.
There is a yearly review of the activities based on the number of posts that the influencer has out across and the followers and responses that they have been received.
However, there is no time period for which LinkedIn engages an influencer, they can be associated as long as they are writing and sharing relevant content.
Kothari added that they were starting to invest in premium features and analytics so that the brand was seen to be more responsive to customer needs. The numbers for its premium services have seen healthy growth, according to Kothari.
However he is clear that the brand will not move away from its freemium model with a majority of services being accessible free of cost.
While the platform is popular among working professionals, Kothari said that they realised that they were not as well known among students. They have added features such as 'Placements' to bridge this gap. This programme helps candidates to apply for an array of positions through one standardised test.
Within eight weeks of its launch, Kothari said, about 250,000 students have registered.
Now with Chopra, he expects many more will throng the portals of LinkedIn.