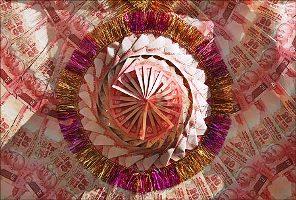 The S&P BSE IT Index has gained about 8.6 per cent since April 30, 2013 as against Sensex's flattish performance (down 0.15 per cent).

This rally is largely fuelled by about 7.3 per cent fall in the Indian rupee over the same period.

Information technology biggies, which derive about 50-60 per cent of revenues in US dollars, are amongst key beneficiaries from a weaker rupee.

Analysts estimate that typically a one per cent fall in the Indian rupee versus the US dollar results in an Ebitda margin increase of 30-50 basis points for top IT companies like TCS, Infosys, Wipro and HCL Tech.

However, this time around, there are headwinds as well and hence, analysts say companies may not fully benefit from the fall in the rupee.

"Companies will struggle to retain margin benefits due to competitive pressures, smarter buying strategies by clients and the need to invest to expand addressable market," believe analysts at Kotak Institutional Equities.

While analysts have increased their FY14 earnings per share estimates for the top IT companies by three to five per cent to factor in gains from a weaker rupee, they don't expect significant upsides unless the rupee falls more or headwinds subside.

Interestingly, the co-relation between a weaker rupee and margins has moved unfavourably for the IT biggies in the recent past.

The rupee has fallen about 31 per cent over the past two years, from 43.9 in July 2011 to 58.15 prevailing.

However, Ebitda margins of TCS, Infosys and Wipro have contracted by 129 basis points (bps), 390 bps and 327 bps, respectively, in FY13 vis-a-vis FY11. HCL Tech (which already had the lowest Ebitda margins amongst the top tech companies) is the only company to witness margin expansion.

HCL's year ends in June. Its margins for the nine months ending March 2013 stood at 22.4 per cent, which is over 500 bps higher than 17.1 per cent for year ending June 2011.

This expansion was largely driven by HCL Tech's Axon acquisition, which boosted both revenues and margins.

Going forward, analysts expect margins to be under pressure
or hover around current levels for the top IT companies given the higher cost of striking deals.
The other aspect is the amount of hedging undertaken by companies.
The companies having relatively higher hedges, such as TCS and Wipro, are not expected to see full benefits of rupee depreciation in the near-term.
In contrast, Infosys and HCL Tech's hedging strategy should aid their profitability.
Also, the impact will vary in sync with the accounting strategy followed by companies for their outstanding hedges.
Rumit Dugar, IT analyst at Religare Capital Markets, says, "Rupee will be a tailwind for the IT companies but we need to see how much of these gains are sustainable.
"We believe demand from IT clients should improve over next 12-15 months. While there is the risk of US immigration Bill going through, large-cap companies have the ability to better manage the risks arising from the bill."
The actual impact of the US Immigration Bill will vary depending on the strategies adopted by individual companies to execute the proposed changes.
The companies can increase local hiring, move H-1B employees offshore and also increase the number of US delivery centres, though all these measures may dilute their profitability.
Among the top IT companies, TCS is likely to sustain its high growth given the strong execution and well-diversified business model.
However, the stock trades at rich valuations of 18 times FY14 estimated earnings and hence seems to leave little scope for upsides.
Though HCL Tech has grown at a robust rate in the past few years, analysts believe sustainable margin performance and pick-up in software segment growth are key for the company, going forward.
Wipro's cheap valuation at 12 times FY14 earnings is a function of its poor financial performance over the past six to eight quarters.
Analysts believe the company has to improve revenue visibility and deal-win rate to warrant any re-rating of the stock.
While Narayan Murthy's return lifted sentiments around the Infosys scrip, the company may take a couple of quarters to show improvement in business growth.
The stock trades at reasonable valuations of 14 times FY14 earnings.