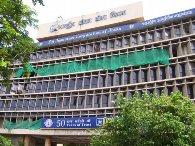 Life Insurance Corporation of India has hiked its stake in Anil Ambani Group company Reliance Communications to 7.02 per cent after buying fresh shares worth Rs 1,274.4 crore through an open market transaction.
LIC has purchased 4.16 crore (41.6 million) shares representing 2.01 per cent stake in private telecom services provider Reliance Communications worth Rs 1,274.4 crore (Rs 12.74 billion), Reliance Communications said in a disclosure to the Bombay Stock Exchange.
Prior to the purchase, LIC held 5 per cent stake in the company, while now it holds 7.02 per cent stake or 14.50 crore (145 million) shares of Reliance Communications.
Shares of Reliance Communications on Thursday settled at Rs 245.25 on the Bombay Stock Exchange, up 2.08 per cent from the previous close.