While it is heartening to see companies chipping in with their messages of support, they are probably walking a tightrope here.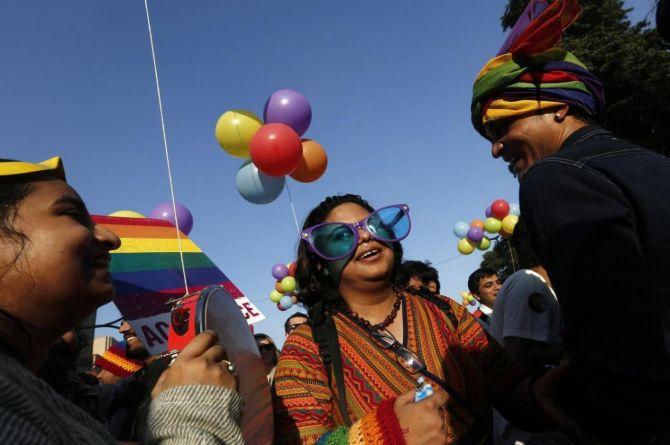 India's top brands are going all out to celebrate pluralism and equality.
Amidst the relief and rapture over the Supreme Court's historic judgement decriminalising gay sex on Thursday, brands lit up with their own diversity messaging, flooding social media with witty one-liners, tongue-in-cheek humour and hashtags in support of the verdict.
It was obviously a great way to get the eyeballs and ensure likes and clicks on your brand - although for some, the communication did spring from a genuine commitment to the cause of the lesbian, gay, bisexual, transgender and queer (LGBTQ) community's human rights.
For instance, food aggregator Zomato donned the gay pride colours on Twitter, saying: "Let's get one thing straight. Love is Love".
Netflix had a simple message: "Today's a good day. #LoveIsLove."
Uber India went a step ahead and incorporated the rainbow colours symbolic of gay pride not only in its logo, but also in its route map.
The accompanying text said: "#MoveForward, ride with #Pride!". Britannia's Good Day cookies came out with a creative where the ridges of the biscuit were splashed with rainbow colours.
Other brands such as IndiGo, HBO, Nykaa, L'Oreal, Discovery Networks, Swiggy, Ola, KFC, Star TV, Zee TV, Colors, GoAir and Titan Eyeplus were also quick to get into the euphoric mood of the moment.
They celebrated the end of the draconian law and tweeted using hashtags such as "Section377" and "377 Verdict".
Tech majors Google and IBM announced that they stood strong and firm with their #LGBT employees.
"Brands and agencies clearly seized the moment and stepped out to express their joy and support for the verdict," said Soham Bhagnari, business head (west) of digital marketing agency Foxymoron.
"Such topics are normally brought to light on Twitter. But in this case, Instagram and Facebook were also abuzz with messages.
"Not only did brands go all out with creative posts, a lot of them even tweaked their logos and taglines," he said.
Starbucks, for instance, tweaked its tagline to "Pride in every cup", while rival Cafe Coffee Day expanded its slogan and made it, "A lot can happen over a coffee for everyone".
In many cities, restaurants ran promotions to celebrate the verdict, while travel portal Yatra.com came up with limited period special offers such as honeymoon packages starting at Rs 377.
And then there were comedy content creators like AIB, East India Comedy or Arré that brought a touch of irreverence to the subject, while television channel Star Gold posted a video showing couples expressing their love with the song Pyaar kiya toh darna kya from the film Mughal-e-Azam playing in the background.
Not all pride and glory
However, experts warn that there are downsides to being topical, especially if the company is not associated with the cause in question, in this case, gay rights.
There are two sides to this. First, brands taking up a cause is not a new phenomenon.
Oreo had once run a 100-day social media campaign where it spoke about a cause. Benetton has been consistently using the equality theme in its communication.
Some brands like Titan's Fastrack have always been edgy in their branding and communication.
For them as well as Ola, who've taken a public stand against discrimination, it makes sense to enter a conversation like this. But for brands that are just doing it to be relevant, it really does not make sense, said Ambi Parmeswaram, founder, brand-building.com.
In fact, some experts feel that companies could also face a blowback from those who oppose the verdict.
"Certain outfits have expressed their displeasure with the judgement. They could start trolling the brands that are coming out in its support.
"While some can face the backlash, especially those that have been consistently associated with the cause, others who are simply flirting with the moment, may find themselves in hot water," said a senior brand manager with a top consumer goods firm.
Clearly, for companies at least, celebrating a great moment in modern India's cultural history is not without its pitfalls.
And while it is heartening to see companies chipping in with their messages of support, they are probably walking a tightrope here.
Photograph: Adnan Abidi/Reuters