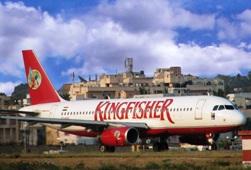 After treating Kingfisher Airlines with kid gloves for long, bankers on Tuesday finally decided to recall all loans, amounting to Rs 7,500 crore (Rs 75 billion), to the company.

The move includes sale of pledged assets and invoking promoter Vijay Mallya's personal guarantees.

Some of the 18-member lenders' consortium, led by State Bank of India, is meeting on Wednesday to finalise course for legal action.

The bankers, who met the airline's management in Mumbai on Tuesday, said they had given the airline enough time to infuse fresh equity and come up with a loan repayment plan.

But there has been no response, said SBI Deputy Managing Director Shyamal Acharya.

He said the value of the Kingfisher brand, Mallya's personal guarantee and pledged assets would be more than the exposure.

The debt-laden airline has been grounded since October 2012.

Acharya said lenders would initiate legal action to recover loans shortly.

The boards of individual banks would finalise the steps for recall in 7-10
days.
Some of the immediate steps would include sale of shares and moving the Debt Recovery Tribunal.
A loan recall means the borrower has to repay loans immediately.
A top official of a large public sector bank said the recovery process was going to be a long-drawn one.
The KFA management said the airline would wait for an official communication from banks before finalising its action plan.
The airline, however, maintained a brave face and said it hoped to restart operations by summer.
CEO Sanjay Aggarwal said all salary dues would also be settled shortly.
According to senior UB Group executives, Mallya has only one option to raise resources for the airline's revival: Selling real estate.
The group has been in talks with two global private equity funds for sale of Rs 800-crore (Rs 8-billion) real estate.
Mallya is also looking to sell his 30 per cent stake in Mangalore Chemical & Fertilisers, which could get him about Rs 300 crore (Rs 3 billion).
Most banks have already classified KFA loans as non-performing assets and made provisions for the account.