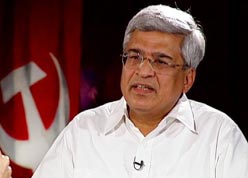 Accusing United Progressive Alliance government of pursuing a 'neo-liberal' agenda, CPI-M general secretary Prakash Karat said on Wednesday the Left would launch a campaign against India's free trade agreement with ASEAN which he claimed had dealt a 'mortal blow' to farmers in the country.
Addressing a party rally at Irutty near Kannur, Karat said a convention of the Left parties and their farm outfits would be held in New Delhi on August 26 to discuss the implications of the agreement and would work out the course of campaign.
"The haste with which the Manmohan Singh government moved on the matter showed that the UPA was taking out its anti-people policies within three months of the Lok Sabha polls," he alleged.
Karat said the government was now finding it convenient to go full steam ahead with its 'liberal' agenda which it could not do while it survived on the outside support of the Left.
On August 13, India signed the agreement with 10 south east Asian nations for duty free import and export of 4,000 products ranging from steel to apparels to sugar and tobacco over a period of eight years.
Image: CPI-M general secretary Prakash Karat