'Smart' Gandhinagar is now wired to the future, becomes India's first smart city; launches citywide WiFi services, smart streetlights, speed and face recognition surveillance.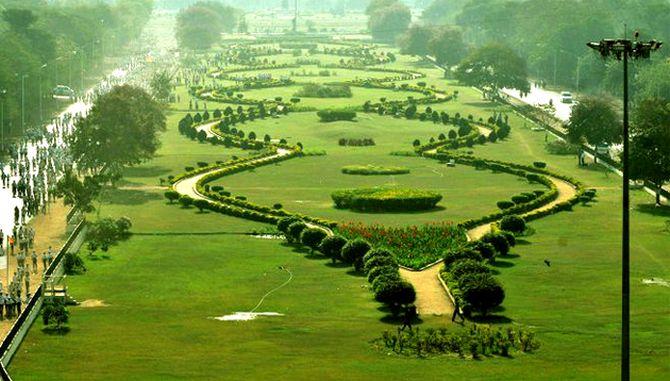 I
t may not have made it in the first two rounds of shortlist by the ministry of urban development but Gandhinagar has now become the first city in the country to go smart.
From seamless WiFi connectivity (unlike hotspots planned other cities) to smart sensor-enabled traffic lights that brighten or dim, based on vehicular traffic density, the first phase of the smart city project has been rolled out in the capital city of Gujarat, ahead of the Vibrant Gujarat Global Summit 2017 by the Gandhinagar Municipal Corporation.
The Gandhinagar smart city project also includes services like internet protocol-based surveillance, environment sensors, digital display, speed and face detection traffic management, automatic number plate recognition, public address system, citizens' help desk mobile application and a centralised command centre to monitor and control activities on ground.
The project has been created in partnership with Sterlite Technologies, which has designed, built and is managing the smart city services in Gandhinagar. "The smart services project of Gandhinagar will address essential administrative needs of citizens and empower them with easy access to critical information," said Pravin Agarwal, vice-chairman, Sterlite Technologies.
Incurring a project cost of Rs 22 crore for the first phase, GMC expects to generate annual revenue of Rs 4 crore through WiFi charges and digital signages. With this, Gandhinagar has outdone some of the major cities which were shortlisted by the ministry of urban development under the Smart Cities Mission. Prominent among these are cities like Ahmedabad, Pune, Jaipur, Surat, Kochi, Coimbatore, Chennai, Ludhiana, Amritsar, Nagpur, Varanasi and Vadodara, among others who begun work on rolling out smart city services.
"We were part of the 100 cities but did not succeed in being shortlisted in the first two rounds. We launched the services even before we participated in the third round this year. Unlike other cities, Gandhinagar will be offering open-to-air WiFi services across the city free for first two hours of usage with a limit of 2GB during VGGS, after which the services will be charged at competitive rates," said D N Modi, municipal commissioner, GMC, while adding WiFi services worth Rs 8
crore will be provided gratis during the year through internet service providers.
A
lready, the 66 sq km-wide city has seen 75 per cent of area being covered under WiFi, with the rest to be completed in some months. Under the smart surveillance and traffic management, GMC has installed 210 kinds of closed-circuit television cameras, including speed and face detection, automatic number plate recognition and general surveillance, which are monitored from the central command centre.
"Detection of crime would improve in the city and, in case of traffic violations, the traffic police can reach the offenders, based on RTO records," said Modi.
Of the 17,000 streetlights across the city, 1,000 have already been equipped with smart sensors, which switch on and off depending on vehicular movement at nights. These sensors are expected to save 30 per cent energy for the administration. While all streetlights are being changed to light-emitting diodes, Phase 2 will see the remainder 16,000 streetlights being equipped with smart sensors.
GMC has also installed five digital signage cubes that display public information. "Installed at major traffic intersections, these cubes will beam videos, ranging from government notification to real-time weather information. This will help GMC earn revenue through commercial displays," said Modi.
T
aking communication further, the project also entails the installation of PAS across the city in 13 zones. The administration plans to utilise the systems to not only play devotional music early mornings but also broadcast general and zone-specific communication via PAS. According to Modi, in case of any disaster, the PAS will help GMC alert citizens across the city.
Meanwhile, GMC has also integrated major civic amenities and public utilities on a common citizens' help desk mobile application that acts as a single destination for availing the same. The system has a 24x7 call centre that addresses citizens' complaints and queries filed via the app, while all the smart services can be controlled and monitored through the central command centre.
Backed by a fully operational smart city model, GMC plans to apply for the third round of Smart Cities Mission later.
"By March-end, we have to submit our papers for the third round of MoUD's Smart Cities Mission," said Modi.
Photograph: Courtesy, narendramodi.in.