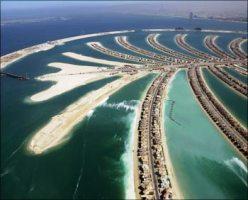 Indian businessmen based in he Gulf region have been named part of a forum that has been established in Dubai to unite the business community from the country.
The formation of the Indian Business Leaders Forum was announced on Sunday by India Trade & Exhibition Centre Middle East established in Sharjah with the mandate from the Indian Ministry of Commerce and Sharjah Chamber of Commerce and Industry.
To be headquartered in Dubai, possibly at the world's tallest tower Burj Khalifa, the membership of the forum will be given by invitation only.
Indian Business Leaders from other the Gulf Cooperation Council countries shall be invited to the Forum, a statement said. GCC is political and economic alliance of six West Asian countries -- Saudi Arabia, Kuwait, the United Arab Emirates, Qatar, Bahrain, and Oman.
ITEC ME was inaugurated by President Pratibha Patil and Sheikh Sultan bin Mohamed Al Qasimi, Member of the UAE Supreme Council and Ruler of Sharjah on November 25. Azad Moopen (DM Group), B R Shetty (NMC Group), Feroz Allana (IFFCO Group), J R Gangaramani (Al Fara'a Group), Joy Alukkas (Joy Alukkas Group), Micky Jagtiani (Landmark Group), Ram Buxani (Cosmos), Sudesh Aggarwal (Giant Group), Sunny Varkey (Varkey Group), Syed M Salahuddin (ETA Group), Vijay Malhotra (KPMG), and Yousuf Ali (Emke Group)
are the names included in the list.
A similar board of Governors of young achievers and second generation business leaders is under formation and will be announced shortly while the Board of Governors shall be expanded in due course of time, the statement said
It said that the Ambassador of India to UAE, MK Lokesh, has consented to be the Patron of the Forum and Consul General of India shall be the ex-officio member of both the board of Governors.
The board of Governors in its meeting held yesterday unanimously nominated Sudesh Aggarwal as its interim President.
The forum intends to unite the Indian business leaders and encourage intra-Indians business.
It will take up issues of concern to Indians and Indian Business with local and Indian authorities.