After a gap of nine months, the Orissa government on Wednesday resumed land acquisition work for the Rs 52,000-crore (Rs 520-billion) Posco steel plant, amidst tight security even as those opposed to the project started thronging the area.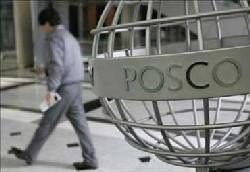 The land acquisition work is being undertaken by four teams comprising over 60 officials and personnel from revenue, forest and other departments at Polanga village under Gada Kujanga area, Land Acquisition Officer Surjit Das said.

"The work is progressing smoothly in a peaceful atmosphere. Elaborate security arrangements have been made to ensure smooth acquisition of land," he said.

The land acquisition process was halted on August 6 last year following a stop work order from the Union Environment and Forest Ministry.

Among the first to receive cheques for parting with their betel vines during the process were Sarbeswar Behera and Kalindi Behera of Bayanala locality of Polanga village located in Jagatsinghpur district, Das said. While Sarbeswar was handed a cheque of Rs 1.40 lakh, Kalindi received Rs 1.60 lakh.

As the process of land acquisition was set in motion, anti-project activists of Posco Pratirodh Sangram Samiti started assembling in the Dhinkia area, while those of Bhitamati Suraksha Janamancha congregated at Nuagaon.

"However, there has been no attempt by anti-Posco activists to disrupt land acquisition work," the police said.

Around 600 police personnel have been deployed in the proposed plant site area to prevent any untoward incident during the land acquisition, official sources said, adding ambulances and fire brigade were also stationed in the area.

Besides Baliltutha and Kujanga, the police force was also deployed in areas like Trilochanpur, Gobindpur and other places where land is to be acquired, they said.

Senior officials, including Jagatsinghpur district collector N C Jena and Superintendent of Police Devadutt Singh, were camping at Kujanga to monitor the land acquisition work.

Despite threats, senior officials expressed the hope that the villagers would extend necessary cooperation as their demands are going to be discussed very soon.

The revenue divisional commissioner has already convened a meeting of Rehabilitation and Periphery Development Advisory Committee (RPDAC) to discuss and settle the demands made by the local people on May 30, according to the collector.