Kerala-based Kitex Garments, the world's second-largest children's garments producer, has landed in trouble after sporadic violence at its workers' camp led to an attack on the local police, injuring at least five officers.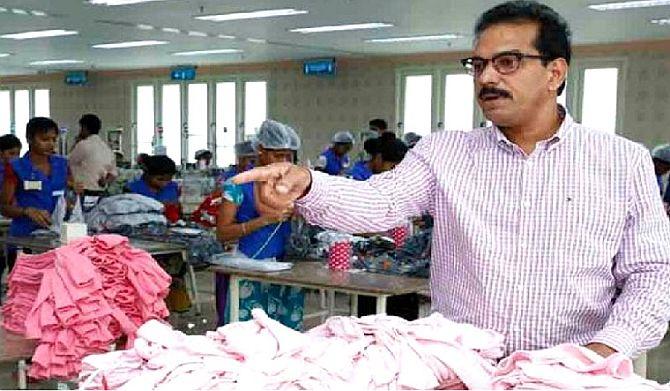 The local police told Business Standard that at least 156 migrant workers were detained after the incident and around 50 have been arrested so far.
A decision on any possible action against the company will be taken after the investigation.
Kitex Garments' clients include global majors such as Gerber, Carter's, Wal-Mart, Amazon, Target and The Children's Place.
According to local media, a central intelligence team has reached the location to probe whether there is any terror link to the violent incidents.
The violence has left five police officers injured and a police jeep was set on fire.
The workers were mainly from the Northeastern states, Jharkhand and West Bengal.
Sabu M Jacob, promoter and managing director (MD) of Kitex Garments, said only around 23 people were involved in the violent incidents and the remaining workers were wrongly charged and detained.
"We are saying this based on CCTV evidence.
"Those who have been using this expected event with political narrow-mindedness have been trying to shut down Kitex for the past six months," Jacob said.
Sreenijan was not available for comment.
The local MLA had criticised the Kitex management, citing that it should be probed if it is responsible for escalating the violence.
He had said around 15 people are staying at camps where only four to five people can stay.
Jacob added that there was no criminal intent behind the incident and some workers may have been under the influence of narcotics.
The violence started after differences between two groups of workers over Christmas celebrations.
In July, Kitex had announced that it was moving out a planned Rs 3,500-crore investment from Kerala to Telangana.
This was apparently owing to a witch-hunt by the Pinarayi Vijayan government that conducted a series of 11 raids and inspections by various government departments.
These include labour, health, factory and boilers, pollution control, besides the police and the collector.
Interestingly, the company had hogged the limelight in 2015 for launching a political party called Twenty 20.
In the 2020 Panchayat elections, it contested in Kizhakkambalam, Aikkaranadu, Kunnathunad and Mazhuvannoor panchayats.