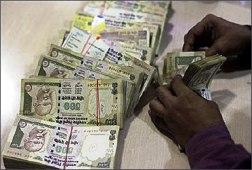 L&T Finance is in advanced stages of negotiations to buy Morgan Stanley's wealth management business in India.

The proposed acquisition would help L&T Finance strengthen its foothold in the country's nascent wealth management industry, almost a year after it roped in Manoj Shenoy and 12 executives from Swiss private bank EFG, which shut shop in India last year.

The deal could be finalised in a month, said a person familiar with the matter.

An L&T Finance spokesman said the company did not comment on market speculation, while a Morgan Stanley spokesperson declined to comment.

L&T Finance has taken the acquisition route for growth, making three buyouts last year -- in the MF, housing finance and auto finance segments.

Ved Prakash Chaturvedi, who joined L&T Finance from Tata Mutual Fund last year, is said to be in charge of the company's venture into the wealth management business.

Manoj Shenoy, who reports to him, and executives are said to have brought in $200-250 million in assets of rich investors into L&T Capital, a unit of L&T
Finance that will run the wealth management business.
The extent of assets Morgan's Indian arm manages could not be ascertained, but three industry officials said those could be Rs 2,000-3,000 crore (Rs 20-30 billion).
Foreign firms, including Morgan, run the biggest private banking or wealth management businesses in India.
Morgan Stanley employs 400 people across capital markets, equity and fixed-income sales and trading, research, asset management and private wealth management business.
It had set up the wealth management unit five years ago.
It was not clear how much L&T Finance would pay to buy the business and whether it would absorb Morgan's staff after  the acquisition.
But, wealth management industry officials say it is imperative for L&T to retain the staff as relationship managers would be important for bringing in a major chunk of the assets of Morgan Stanley's wealth management division.
"During acquisitions of private banking firms, acquirers' aim is to ensure at least 60 per cent of the target's assets are brought in," said a senior private bank official. "For that, retaining executives is crucial," he added.