US buyouts firm KKR & Co LP has agreed to buy a controlling stake in Alliance Tire Group from Warburg Pincus LLC, the three companies said on Friday, without disclosing details of the transaction.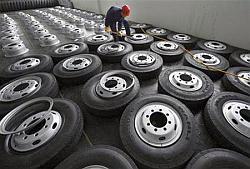 The deal would be the biggest private equity transaction in India after Bain Capital paid about $1 billion to buy a 30 percent stake in business process and technology services provider Genpact in August 2012.

Reuters reported on Tuesday, citing sources with direct knowledge, that KKR would pay around $500 million for the controlling stake from Warburg, which invested in the tyre maker Alliance in 2007.

The US private equity firm will put in slightly over $300 million of its own money to buy an over 75 percent stake in Alliance, a source familiar with the matter told Reuters on Friday.

Alliance Tire will be the last new investment from KKR's debut Asia fund, a $4 billion fund raised in 2007. The firm is near to a final close on a new $6
billion Asia fund, the largest ever buyouts fund raised for the region.
KKR's capital markets team put together the financing package for the deal, the source said, which included financing from Crescent Mezzanine and Ivy High Income Fund.
Alliance owns two manufacturing plants, one each in Israel and India, and has a sales presence in more than 120 countries, according to its website. Alliance's tyres are also made at contract manufacturing facilities in China and Taiwan.
The group had sales of more than $500 million in 2012.
Warburg Pincus, which invested over $3 billion in India, will be exiting its 6-year-old investment in the company.
Yogesh Mahansaria, founder of ATG, will continue to maintain a stake in the company and partner with KKR to continue to grow the business, the statement said.
Credit Suisse advised Alliance on the deal while Nine Rivers Capital advised the founders. Barclays Capital and JPMorgan advised KKR.
(Additional reporting by Sumeet Chatterjee in Mumbai)