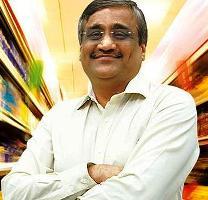 To boost the group's revenues, Future Group founder Kishore Biyani has come up with a new business model called Big Bazaar Direct, wherein company franchisees will visit customers to take orders and the products would be delivered in three to seven days.

The franchisees will take orders on tablets provided by the company.

Customers will be offered over 1,000 deals by Big Bazaar, which has more than 160 stores across the country.

Customers will receive a confirmation SMS and they have to make payments to franchisees.

However, Future's rivals are not enthused with the idea. "I do not understand this model.

"Anyway, people can always shop online or go to a kirana shop for his daily needs," the chief executive of a retail chain said.

The group is aiming to have 100,000 franchisees within the next two years, sources in the group said. Kishore Biyani could not be contacted for comments.

Customers are expected to get delivery within three to seven days.

Franchisees will earn on each order and Big Bazaar will take care of supplying orders, the company said.

Those willing to be the franchisees need to pay Rs 1,000 as application fee with know your customer documents.

Selected parties need to make Rs 300,000 investment which includes a refundable security deposit, initial advance, set-up charges for the tablets, initial branding, one-year training and so on, the company said.

The group launched the project as pilot three weeks ago in Nagpur and is looking to take it national in the next two months.

"Currently, we are giving leads to people and getting franchisee enquiries," a source said.

"The source said though the company had communicated about three-to-seven-day delivery, ultimately it was looking at 24-hour delivery in cities such as Mumbai and 48 hours in smaller cities.

"The group came up with a full page advertisement in a national daily under the headline "1 lakh outlets. Zero FDI. The future of FDI coming soon".

Group insiders say the new venture is the second such big project from Biyani this year after he came up with 'Big Bazaar Profit Club' in April-May.

Under this scheme, a customer has to pay Rs 10,000 upfront, after which he can shop for Rs 1,000 a month for 12 months.

"It is a dream project from Kishoreji. We have not studied the business potential yet," the source said.
Image: Kishore Biyani; Photograph, courtesy: Future Group