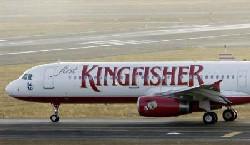 Kingfisher Airlines said on Friday its net loss has fallen by 39.54 per cent to Rs. 253.89 crore (Rs. 2.538 billion) for the quarter ended December 31, 2010.
The company had reported a net loss of Rs. 419.97 crore (Rs. 4.199 billion) during the corresponding quarter last fiscal.
Its income from operations registered an increase of 27.95 per cent during the quarter at Rs. 1,658.69 crore (Rs. 16.586 billion) as against Rs. 1296.34 crore (Rs. 12.962 billion) of the October-December quarter of 2009-10, said the airline in a filing to the Bombay Stock Exchange.
According to the filing, lesser payments on account of foreign exchange differential and exceptional items were the two main reasons, due to which the company was able to reduce its net loss during the quarter.
During the quarter, exceptional items outgo was Rs. 19.19 crore (Rs. 191.9 million), a decline of over 80 per cent as compared to Rs. 100.74 crore (Rs. 1.007 billion) it had paid in the October-December quarter of 2009-10.
The filing, however, did not mention the details of exceptional items. Similarly, foreign exchange difference was Rs. 50.91 crore (Rs. 509.1 million) for the company, a decline of 56.42 per cent vis-à-vis Rs. 116.84 crore (Rs. 1.168 billion) in corresponding quarter last year.
However, the interest outgo of the Vijay Mallya-promoted airline increased by 23.63 per cent to Rs. 339.59 crore (Rs. 3.395 billion), while aviation fuel costs surged by about 21.50 per cent at Rs. 540.14 crore (Rs. 5.401 billion).
For the nine months period, between April and December, 2010, Kingfisher's net loss has reduced by 37 per cent at Rs. 671.85 crore (Rs. 6.185 billion) as against a net loss of Rs. 1076.32 crore (Rs. 10.763 billion) it had reported for the corresponding period of 2009-10.
Shares of the company closed on Friday at Rs. 42.10 apiece on the Bombay Stock Exchange, up 4.60 per cent from previous close.