A spurt in airfares on the Gulf routes during the Ramzan and Onam festivals has prompted the Kerala government to revive plans to launch its own airline. But the move will end up hurting Air India Express, which earns nearly 60 per cent of its revenue from Kerala, according to aviation experts.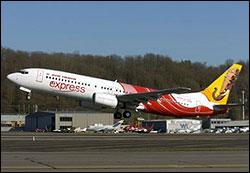 Air India Express currently operates 145 daily flights, down from about 200 six months ago. The flights have been curtailed owing to various reasons, such as the DGCA's new flight duty rules, crew shortage and recent diversion of two of its planes for Haj charters.
It flies to 10 destinations in the Gulf from Kerala and its busiest routes are to Dubai, Abu Dhabi and Sharjah. However, AI Express has been increasingly facing competition from other low-cost Gulf airlines, such as Air Arabia and Bahrain Air, as well as Indian carriers such as Jet Airways.
Last week, state Chief Minister Oommen Chandy announced the government would launch Air Kerala to link the state with the Gulf and seek a rule waiver from the civil aviation ministry. The rules require airlines to have a minimum of five years' service and a fleet of 20 planes to launch international flights.
According to Chandy, the initial investment for the project is expected to be about Rs 200 crore (Rs 2 billion). The Kerala government and Cochin International Airport Ltd (CIAL) will hold 26 per cent stake and the rest will be held by private individuals and non-resident Keralites in the form of equity shares of Rs 10,000 each. NRI businessmen Yusuff Ali (who runs the LuLu hypermarket in the Gulf) and Ravi Pillai have shown interest in the venture, it is learnt.
The immediate trigger for the project's revival has been the frequent cancellation of Air India Express flights to the Gulf and the resultant rise in fares. Some Kochi-Dubai return tickets were on offer for as much as Rs 70,000 in August. CIAL Managing Director V J Kurian is optimistic the growing demand in the state will boost the airline.
Capt G R Gopinath, who launched Air Deccan, India's first low-cost airline, is critical of government stepping into the aviation business. "I don't think it is a good idea. They should create an ecosystem and facilitate businesses to thrive and compete, and encourage the private sector without allowing cartelisation," he told Business Standard. V Thulasidas, former managing director of Air India, said if the current problems in Air India Express were sorted, there would be no need for Air Kerala.
Kurian, however, defends the move. "Air India is not bothered when SpiceJet, IndiGo and Kingfisher start flights. It is unfair when there is talk of Air Kerala, they say it will impact Air India," he said.