The devastation caused by the current deluge has damaged hundreds and thousands of homes and vehicles.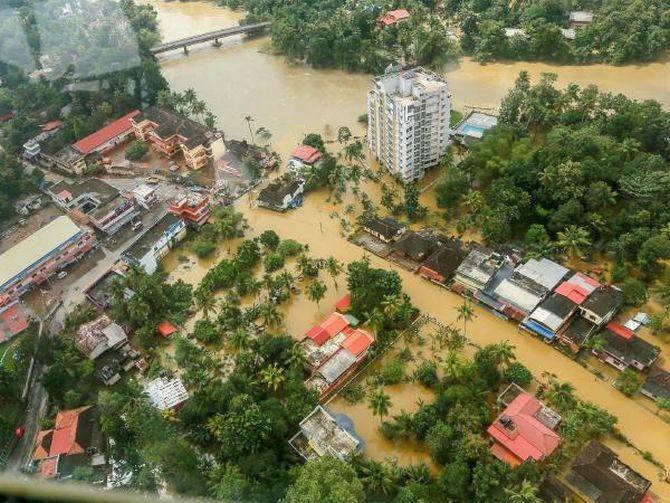 In the aftermath of the Kerala floods, the Insurance Regulatory and Development Authority of India (Irdai) has provided guidelines to make the claims process easier for policyholders.
It has asked insurance companies to simplify the registration and claim-settlement procedures, and follow the same procedure as the one used after the Chennai floods in 2015.
The devastation caused by the current deluge has damaged hundreds and thousands of homes and vehicles.
It is in times such as these that people turn to their home and motor insurance policies. However, sometimes, though people have an insurance policy, their claims get rejected.
The primary reason for this, say experts, is lack of awareness about what is covered.
"All insurance policies come with their own terms and conditions. Customers should make themselves aware right at the time of buying the policy," said Amitabh Jain, head, motor and health underwriting and claims, ICICI Lombard General Insurance.
The basic motor insurance policies covers losses caused by natural calamities such as floods, typhoons, hurricanes, storms, inundation, cyclones, earthquakes, lightning, and landslide.
The key point to remember is that insurers cover losses caused by the impact of these events. Regular wear and tear or breakdown is not covered.
Another situation that is not covered by a basic motor insurance policy is hydrostatic lock of the engine, which refers to the car engine stopping due to waterlogging.
"If your car gets stuck in a waterlogged area, avoid cranking or igniting the engine again and again. Instead, look for an alternative travel option and get your vehicle towed to the nearest service centre," said Animesh Das, head of product strategy, ACKO General Insurance.
Das added that insurers regard engine seizure due to waterlogging as negligence and hence, reject claims.
If you want this eventuality covered, opt for an engine-protect add-on cover, which costs around 7-9 per cent of the base premium.
Incorrect or incomplete documentation and evidence also lead to claim rejection.
In case of vehicle theft, for instance, you need to provide both sets of keys to prove there was no negligence on your part.
Property claims mostly get rejected due to misrepresentation, non-disclosure, and fraudulent acts.
Damage caused due to a wilful act or negligence also results in claims being rejected.
Experts suggest that policyholders should study their home insurance policy closely and familiarise themselves with the risks covered and the exclusions so that they don't get a shock later.
If there is damage to your property, say, due to theft, fire, or flood, you need to inform the relevant authorities.
You will also need to provide all the supporting documents for a smooth claim process.
The insurer first appoints a surveyor to assess the damage. According to experts, policyholders should take all possible steps to avert further damage.
"After the loss, one should behave like an uninsured person and take all possible measures to minimise the loss. Insurance does not allow you to make a profit, hence, any exaggeration of a claim will be corrected," added Jain.
Your insurance claim can also get rejected if you don't apply within the stipulated time.
Some insurers give a week's time, while others give you as a much as a month. Any claim filed after the stipulated period is not considered.
Finally, make sure you pay your premiums on time so that you are always covered.
"A key reason for claims getting rejected is that the insured did not pay their premium on time and the policy lapsed," added Navin Chandani, chief business development officer, BankBazaar.
Tips to prevent claim rejection
Make sure that all the details in your policy document are correct
Take photos of the accident or the damaged place
In case of property, keep the loss site untouched till the surveyors have assessed the damage
Make an assessment of the loss and present it to the surveyors for their inspection. Do not exaggerate the loss
In case of damage to car, report the accident directly to the insurer before taking the vehicle to a garage
File an FIR in case your car is stolen or if any third party accident is involved
Photograph: PTI Photo