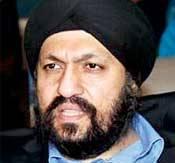 Harpreet Singh Tibb has worked at the largest fast-moving consumer goods company in the country, Hindustan Unilever.

That experience will come in handy in his new job as Tibb, the new marketing director of Kellogg's India, will need to tap into all his resources to steer the cereal maker forward in the face of heightened competition.

Nearly 70 per cent of the breakfast cereal market is made up of cornflakes -- a category created by Kellogg's when it stepped into India two decades ago -- but space has evolved in the last few years with options such as oats and muesli gaining ground.

By some estimates, oats enjoys a market in excess of Rs 200 crore (Rs 2 billion), while muesli is a Rs 100-crore (Rs 1-billion) segment.

Both are growing at 40 per cent annually, faster than the overall breakfast cereal, which is growing at 25 per cent.

Most players are beginning to challenge Kellogg's in these segments.

Besides PepsiCo and Marico, a host of other players such as Bagrry's Mohan Maekin and Dr Oetker's have come up with new products in the segment.

Tibb, who has 15 years of experience with Hindustan Unilever, will head the marketing department in India and South Asia.

His time spent at the foods division of Hindustan Unilever, say industry insiders, will also help him in his new role.

With local consumers opening up to the prospect of healthier breakfast options, the US-headquartered cereal maker sees good prospects for growth in India.

The company is counting on innovations in flavours, pricing and pack sizes to drive growth.

It has already launched smaller packs and added a number of variants for corn flakes.

However, the challenge for the company will be to widen distribution, taking it beyond urban markets.

Rival Nestle, for instance, is attempting to that with its Rs 5-Maggi packs, presenting it as a quick and healthy meal option in small towns as urban households are simply spoilt for choice.
Image: Harpreet Singh Tibb | Photograph, courtesy, Business Standard