Tata Motors-owned British luxury brands Jaguar and Land Rover is planning to expand its dealership network from 15 to 20, targeting tier-II cities like Bangalore, Surat and Aurangabad.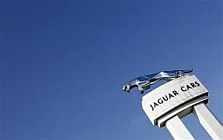 JLR has opened its 15th dealership and the first in Pune on Saturday in association with Ace Perkins.

Also, to take on top selling German luxury car maker will launch two new cars next year to take on top selling German luxury brands in India.

Commenting on dealership expansion, Rohit Suri, Head, Premier Car Division, Jaguar Land Rover India, said, said, "The luxury car market in the tier-II cities is growing rapidly. Along with metros, JLR plans to expand its delearship network in Bangalore, Surat and Aurangabad during this fiscal year.

This expansion programme will continue to improve accessibility to our products through further new
dealerships across India. This forms part of the Jaguar Land Rover strategy to increase market share in India. We want to maintain this momentum by heightening the awareness of our brands."
JLR has sold over 2300 units in India in the year 2011-12 and has achieved a sales growth of 157 per cent in the Indian market.
It assembles Freelander 2, sports utility vehicle at Chakan plant in Pune has sold 800 units during the last fiscal. The company does not disclose quarterly sales for the June quarter.
Suri added, " The company will launch the Jaguar XJ Ultimate and Jaguar F-Type two-seater sports car in India in 2013 to compete with German luxury car manufactures like Audi, BMW, Lexus and Mercedes-Benz. The models, which will be launched first in the UK and Europe and then in India through completely built unit (CBU) route."
The two new cars will be imported from its Castle Bromwich plant in Birmingham, UK.