Jhunjhunwala said the second wave of Covid-19 was a passing phase and any correction would be a buying opportunity.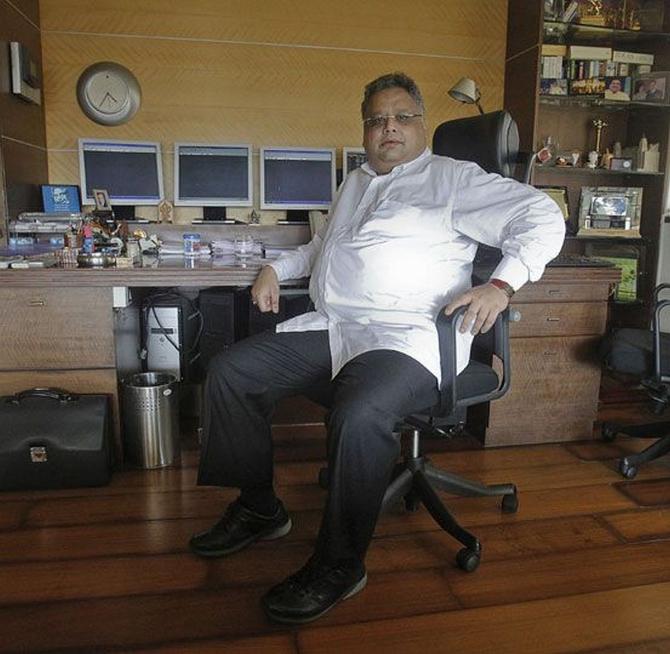 Ace investor Rakesh Jhunjhunwala on Thursday said he is bullish on the banking space and particularly the state-owned enterprises.
"I am bullish on the banking sector. Within that, the most-undervalued are those in the public sector space.
"The credit cycle has turned. There is a lot of demand for money. Cost to income ratio will come down.
"Public sector banks (PSBs) are hopelessly undervalued," he said.
Jhunjhunwala, one of India's well-known individual investors, was speaking at the India Economic Conclave organised by the Times Network.
He said he won't rule out 5-10 times gains in state-owned banks over the next five years.
Shares of PSBs have been on a tear this year.
The Nifty PSB index is up 20 per cent so far this year.
In comparison, the Nifty is up less than 2 per cent.
The PSB index, however, has come off 16 per cent in the past one month as some investors took some money off the table after the stellar gains.
He advised investors to buy PSBs and companies where the government will divest.
"There will be gains in stocks where the government will disinvest," he said.
Jhunjhunwala said the second wave of Covid-19 was a passing phase and any correction would be a buying opportunity.
The benchmark Sensex has come off 7 per cent from its peak made on February 15.
The Big Bull said equity market investors should be prepared to handle volatility.
"Markets can be treacherous. But they are how they are and we should accept it."
In the past two sessions, the market has dropped more than three per cent.
"This is the time to buy. I bought in May (2020) and made the biggest gains of my life.
"In May, there was extreme fear and the highest level of disbelief. Valuations were unbelievable."
He gave the example of Tata Motors, saying the company's market cap has fallen to Rs 25,000 crore but the company had Rs 3 trillion of sales.
Shares of Tata Motors have zoomed four times in the past one year.
Global markets have been through turbulence over the past one month due to a spike in the US bond yields.
Jhunjhunwala believes inflation or rising yields won't be a big risk to the market.
"I don't see any rise in inflation in the US above 2 per cent.
"The Bank of Japan keeps printing money but there is no inflation."
He said we are underestimating India's growth potential and the impact of reforms carried out by the government.
"Not just the next decade but the century belongs to us."
Photograph: Vivek Prakash/Reuters