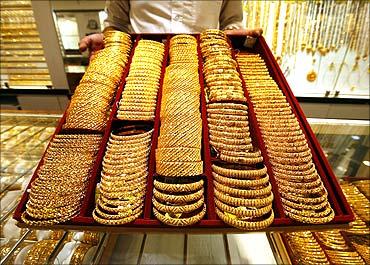 Jewellers' 43-day shutdown forced many artisans to sell vegetables, do menial jobs
Bhanu Uday, 32, sits in a melancholy mood at his third-floor workshop in Delhi's Karol Bagh area.
The news of jewellers calling off their 43-day-strike has failed to lift the sombre mood in this non-descript building, which houses many small workshops.
"We were without any work for the past one and a half months hoping for the government to roll back its decision of levying excise duty and spare us the pain of maintaining records. It is disappointing that the strike has ended without any relief," says Uday, a lean contractor from Uttar Pradesh's Azamgarh district.
He employs eight workers, of whom four had returned to their villages in West Bengal in the absence of substantial work.
In normal circumstances, a worker earns Rs 10,000-20,000 but in the past month or so their earnings had dwindled to Rs 5,000-7,000.
Uday says he will now have to employ two additional staff only to maintain records, as mandated by the Union government.
A piece of gold passes through many skilled workers, including those involved in dye-making, cutting, joining and polishing, before it is turned into a fine piece of jewellery.
According to the new law, every worker involved in jewellery making will have to maintain books.
"Most of us are uneducated and do not know how to make entries. I barely earn Rs 10,000 a month and the government is expecting me to hire a Chartered Accountant," says Sanjay Yadav, who runs a shop in Bedonpura, Karol Bagh.
Workers complained their margins had already contracted in the past few years because of the competition in the market.
The strike added to their troubles, and many across India decided to return to their hometowns in West Bengal for the want of similar work.
It is believed that West Bengal produces the most skilled jewellery workers in the country.

Back home, the situation was no different.
The people employed in the gold industry struggled to make ends meet.
For Jaydeep Ray and 600,000 other gold artisans in Bengal, it was no less than a nightmare.

Ray tried to work as a mason but found it difficult.
"I am working as a mason for two to three days in a week which gives me Rs 250. But I am not used to this kind of physical labour," he rues.
As many as nine of every 10 gold artisans are self-employed.
They produce golden ornaments and fine jewellery, later sold in the retail market. Some of supply to branded shops, which pay handsomely.
Those who failed to sell their products to jewellers ended up selling vegetables.
"These people (artisans) are skilled workers and have specialised in this fine art for decades. Why should these fine people, who create such marvellous works of art, move over to some unskilled profession," asks Bablu Dey, a member of the jewellers' action committee.
Like West Bengal, many workers in Mumbai moved to accept work in kitchens.
This was after the striking jewellers temporarily retrenched 70 per cent of their workforce to reduce fixed costs.
Those not laid off complained of delayed salaries.
There were unconfirmed reports of suicide attempts following economic condition at work and native places.
Around 200,000 workers are employed in Mumbai's popular Zaveri Bazaar, which witnesses a daily turnover of around Rs 7,500 crore.
"Workers will continue to suffer even after jewellers resume work.
"The government decision of asking them to maintain records at every level has put the entire system into doldrums," says Ashok Minawala, director, All India Gems and Jewellery Trade Federation.
Both retailers and workers fear raids, confiscation of gold and criminal proceedings.
Workers in Gujarat are gripped with similar fears of arrests and raids by the excise department.
It is estimated around 300,000 small and big jewellers employ or provide work to around 1.5 million workers in Gujarat.
The strike resulted in loss of around Rs 25,000 crore (Rs 250 billion).
Jewellers said it was difficult to keep the shops shut for any longer, as losses were mounting.
"The government would obviously need some time to get back with something concrete.
"Till then, it has been decided that we would wait till April 26, and after that if things are not conducive, we would strike again," says Harshvardhan Choksi, past president of the Mahajan, a 100-year-old association of jewellers.
There was a report of a 50-year old artisan committing suicide in Mehsana district of the state, but it was too early to link the death to jewellers' strike.
Image: A salesman displays a tray of gold bangles. Photograph: Vivek Prakash/Reuters