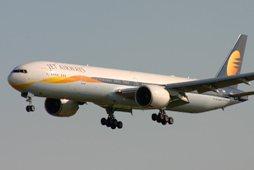 Indian carriers, led by Jet Airways, have asked for 55,191 weekly seats to Abu Dhabi till 2015-16, a four-fold rise over the present arrangement.

Jet has asked for the bulk of the seats, at 41,797.

This huge demand has raised apprehensions among other carriers, as well as private airports.

Talks between Jet and Etihad, the national carrier of the United Arab Emirates, of which Abu Dhabi is a constituent, have been on for months.

The deal being negotiated is a 24 per cent stake purchase by Etihad in Jet.

Under the current entitlement between India and Abu Dhabi, 13,330 seats are there, with a flexibility of increasing by two per cent.

With 82 flights a week, Indian carriers have exhausted their quota.

With Jet operating 4,285 seats, it is seeking 10 times the entitlement.

Etihad has been operating 62 flights to India and is utilising 11,380 seats.

A senior government official told Business Standard, "On an immediate basis, the Abu Dhabi government has asked for removal of the existing cap of seven weekly frequencies each on Mumbai and Delhi.

"A transfer of the residual entitlement of 995 weekly seats from Mumbai and Kolkata combined to Hyderabad has also been sought."

On a medium-term basis, apart from seeking an increase in the entitlements to 25,000 weekly seats phased over the next three years, their government has asked for three new points of call, at Pune, Amritsar and Goa, the official added.

On the request of the UAE, the designated airline of Abu Dhabi has been permitted an unutilised capacity entitlement of 980 seats a week to and from Chennai and Thiruvananthapuram, for flights from Hyderabad.

Earlier, Jet had also been granted permission for a code share arrangement with Etihad Airways, to carry each other's marketing flight codes on their respective services between Indian point of calls and Abu Dhabi.

Etihad has always been a pygmy compared to Emirates
and Qatar, which rule the West Asian market. It has 67 aircraft, a third of Emirates and half of Qatar.
In India, too, with less than two per cent of the international market, it is a minor entity compared to Emirates (13 per cent share) and Qatar (five per cent).
Etihad has 62 weekly flights to and from India, way below Emirates and Qatar.
Experts believe Etihad can feed in passengers seamlessly from Abu Dhabi across the country, by using Jet Airways' wide coverage of 53 cities in India.
Currently, Etihad operates to only 10 cities in India. Similarly, Jet could bring in passengers from Indian cities to Abu Dhabi, from where they could travel to any destination in West Asia and Africa, where Etihad has excellent connectivity.
Jet can also leverage Etihad's strong presence in Europe by bringing in Indian passengers through Abu Dhabi.
Jet currently operates only to Brussels, Milan and London in Europe on its own. (Through code-share agreements with Brussels Airlines and Thalys, the high-speed European train operator, it offers connectivity to another 14 cities.)
Etihad has a huge network in Europe; it directly flies to 17 destinations and through its elaborate code-share agreements with 13 airlines, offers connectivity to 88 cities.
Air India opposes
Jet's demand might hurt Air India's turnaround plan, the carrier said in a letter to the aviation ministry, according to a Bloomberg report, which cited government officials.
This is not the only route which could be an advantage to both airlines.
The India-North America market is one of the largest and most lucrative.
Jet currently flies only to Newark and Toronto and through a code-share with United and Air Canada, offers connectivity to all key markets in North America.
Etihad can provide an alternative to Indian flyers; they can fly from Abu Dhabi to Chicago, New York and Washington, apart from Toronto.
And, through its code share agreement with American Airlines, it would allow Indians to fly all over the US.