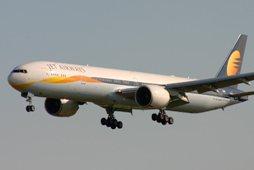 Shares of Jet Airways fell by nearly 6 per cent on Thursday amid concerns that its stake-sale deal with Abu Dhabi-based carrier Etihad may be delayed.

After making a weak opening, the stock further lost 5.59 per cent to Rs 472.05 as the trade progressed on the BSE.

At NSE, the stock plunged 5.75 per cent to Rs 472.

The company lost Rs 128 crore (Rs 1.28 billion) from its market worth that fell to Rs 4,189 crore (Rs 41.89 billion) from Rs 4,317 crore (Rs 43.17 billion)
in the previous trading session.
According to a media report, stake sale to Abu Dhabi's Etihad Airways could be delayed until at least August.
Etihad is reported to be buying 24 per cent equity in Jet Airways for about Rs 1,800 crore (Rs 18 billion).