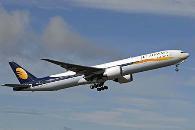 Jet Airways, the largest domestic airline, will merge its no-frills brands JetLite and Jet Konnect and operate under the brand name of the latter.
The move to arrest losses and compete with other low-cost airlines had been in the management's mind for some time, but the decision has been taken now. No date has been announced regarding the re-branding exercise.
The airline's spokesperson did not respond to an email query and text messages. A senior executive, however, confirmed the move.
"We see an uptick in corporate business. We will have Jet Airways full service and Jet Konnect. All Boeing 737s of Konnect will have two classes,'' he said.
Currently, the airline operates the two no-frills brands and a full service brand in the domestic sector.
"JetLite does not have a wider passenger appeal. The re-branding would help us improve market share,'' said a source. Re-branding would also help the airline to attract corporate and business traffic, which is migrating to low-cost carrier IndiGo.
According to the Directorate General for Civil Aviation's November data, Jet Airways plus JetLite have a market share of 27.1 per cent. JetLite's share is 7.3 per cent, while the balance comes from Jet Airways.
Financially, too, JetLite's performance has been a matter of concern for the airline. In an interaction with equity analysts in July, the airline admitted JetLite was less immune to "irrational pricing'' or discount pricing, which was being practiced by competitors.
Re-branding would involve change in JetLite livery and reconfiguration of single class Boeing 737s. However, according to a source, initially the airline would use the JetLite planes for Konnect service without undertaking reconfiguration. Sources also indicate there may not be any cross-utilisation of crew and pilots after the brand change.
Jet Airways rebranded the Air Sahara after acquiring it in 2007 for Rs 1,450 crore. Till now, JetLite flies on an Air Sahara operating permit and is a subsidiary of Jet Airways with different books of accounts. Jet and Sahara fought a bitter legal dispute over acquisition price of Air Sahara and the matter is still pending in the Supreme Court.
Jet Airways has a fleet of 101, including 59 Boeing 737s with twin class configuration. JetLite has 18 all-economy Boeing 737s, which are flown on 31 domestic routes and to Kathmandu.
The airline posted a net loss of Rs 713 crore in second quarter of 2011-12, while JetLite, which has considerably smaller operations, lost Rs 100 crore during the same period.
On an operating level, Jet recorded earnings before interest, taxes, depreciation, and amortisation (Ebitda) profit of Rs 172 crore, and JetLite an Ebitda loss of Rs 41 crore.
The breakeven seat factor and average revenue per passenger showed negative trend for JetLite in the second quarter. It was 99.3 per cent and average gross revenue for passenger fell by 15 per cent to Rs 3,160 crore. The trend was similar in the first quarter, including falling average revenue and higher break even seat factor.
Nawal Taneja, professor emeritus, aviation department, Ohio State University, is skeptical about Jet's plans.

Taneja views an airline within airline model is not likely to be successful.

"I do not think an airline within an airline will work. It calls for very different cultures, systems, processes, cost-structures, airport resources, etc. It would be more effective for Jet to focus on its core business model and develop a strategic relationship with an existing low-cost carrier. This strategy is being adopted by a number of international airlines such as Iberia and Vueling in Spain, Malaysia Airlines and Air Asia in Malaysia, and JAL and Jetstar in Japan.''