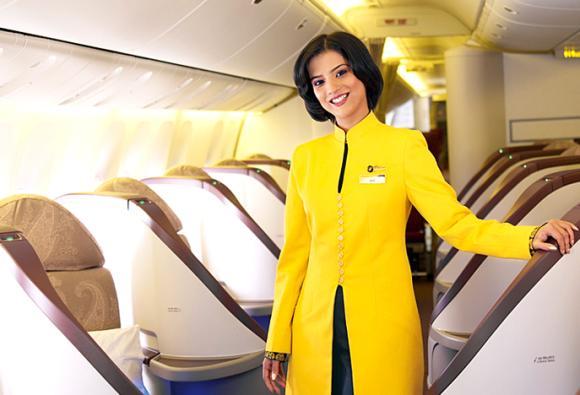 The move comes in the wake of resignations by around 100 pilots, mostly first officers from its Boeing 737s and ATR fleet, in recent months over delay in command training
Jet Airways has started offering an extra monthly allowance of Rs 70,000 to a section of first officers (junior pilots) to discourage them from leaving the airline.
The move comes in the wake of resignation by around 100 pilots, mostly first officers from its Boeing 737s and ATR fleet, in recent months over delay in command training.
The airline is offering the extra pay to first officers whose command training has been delayed.
This would be in addition to the regular pay and flying allowance of Rs 220,000-250,000 per month.
According to experts, the resignations could impact flight schedules and hence the airline is offering extra allowances to retain its pilots.
When contacted, a Jet Airways spokesperson, however, denied pilot shortage or likely impact on schedules.
First officers are required to undergo simulator checks and route checks (flying under supervision of instructors) to get a command on an aircraft.
Jet Airways has around 1,200 pilots operating Airbus, Boeing and ATR aircraft.
Many of those who have resigned are serving their six-month notice and are tipped to join rival airlines in India and Gulf countries which promise quicker transition to commander post.
In a bid to meet the shortage caused by resignations, the airline has also proposed a daily incentive pay of Rs 3,500-7,000 to any pilot who volunteers to work on his or her off-day.
According to their agreement, pilots on the Boeing 737 fleet get two days off after six days of flying.
Duty hours of pilots in India are governed by the Directorate General of Civil Aviation norms.
These rules lay down the duty hours and rest period for pilots.
Pilots are allowed to fly 35 hours in seven consecutive days and those who have not exceeded the duty time are being encouraged to fly on their off-days.
The airline has added flights on both domestic and international routes and hence the requirement of pilots has gone up.
"On many flights, two commanders are being rostered because of shortage of first officers," a Jet Airways pilot said.
Sources said DGCA has also waived its rule, which prohibited airlines from deploying pilots on consecutive midnight duties and this is also said to be a cause of unhappiness amongst pilots.
In an emailed response, a Jet Airways spokesperson said: "Jet Airways follows a structured plan for recruitment of pilots based on future projections.
We employ pilots based on aircraft utilisation, fleet and schedule requirements.
Resignations are part of the normal attrition faced by all airlines worldwide."
"From time to time Jet Airways restructures employee compensation and implements incentive schemes for its employees, including pilots, in line with company policies and requirements.
Any scheme that exists, or is proposed, is compliant to the existing regulation.
As a policy, we do not comment on specifics of employee compensation," the spokesperson added.
Image: A Jet Airways air hostess. Photograph: Kind courtesy, Jet Airways