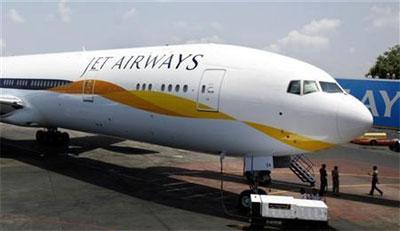 The fight for India's skies is set to heat up with Jet Airways, the erstwhile market leader, aggressively scouting for growth, said its chief executive officer (CEO) Cramer Ball.
"We are focused on increasing frequency and connectivity on domestic routes," said Ball, adding: "Sixty-five of our aircraft fly on 500 domestic flights to 51 destinations."
He also said Jet had increased frequency and connectivity of its flights in the past 12 months.
"Domestic is very much our focus. We are taking advantage of opportunities and making sure we are flying profitably."
The airline has, for long, concentrated on its international operations, with many even accusing it of becoming a feeder to Etihad.
With oil prices in a free fall and domestic traffic growing in double digits, the airline is looking at regaining some of its lost market share.
An aggressive competitor has been highlighted as the biggest risk for rival IndiGo, which saw a spectacular listing late last year.
Citi wrote in a note last month: "The addition of new foreign-backed rivals could force IndiGo to up their game or face challenges to their leading market share."
Jet's stock has risen 31 per cent over three months.
Competitor InterGlobe Aviation's shares have fallen 10 per cent as its aircraft delivery has been pushed back, which will hurt capacity expansion.
The airline's revenue mix currently stands at 55 per cent international and 45 per cent domestic, and its market share in 2015 was 22.5 per cent; Indigo's was 36.7 per cent. With Indigo's fleet-expansion plans taking a hit, Jet could benefit.
It appears to be on course to do exactly this.
The airline's capacity has grown much higher than the industry average, thanks to better fleet management and better aircraft utilisation.
The airline increased its domestic capacity by 24 per cent in the third quarter compared to the industry average of 20 per cent.
The airline will begin taking deliveries of Boeing Max aircraft from 2018, and is looking at various options to increase capacity by increasing the utilisation of its 737s beyond 13 hours and deploying wide-bodied aircraft on domestic and short-haul international routes.
Having a single fleet configuration (12 business and 156 economy seats) has enabled the airline to deploy the 737s during the day on domestic and during the night on short haul routes to Gulf.
The airline is deploying the wide-body A330 aircraft on some short-haul international routes and freeing up Boeing 737s, which are deployed on those routes.
These Boeing 737s fly on domestic routes.
Jet Airways operates eight A330s currently to the USA, Canada, Paris, Hong Kong and Singapore and has leased out four planes of the type to Etihad and Turkish Airlines.
It also flies these on the Delhi-Mumbai sector and is also examining if it can operate extra domestic flights using the A330 aircraft.
It is also focused on expanding its international footprint.
However, the focus will only be only on profitable routes.
The airline's move to Amsterdam is a case in point as it will give the airline better network and choices to consumers flying onward to Europe and the United States.
The airline's CEO believes that partnerships with other airline through code shares is a better way than flying to all destinations using own aircraft.
The airline is looking at adding destinations within the three and five hour flying time from India.