Govt assurances fail to cut ice with Jat leaders as agitation intensifies, Maruti halts production at two plants; highways, railway lines blocked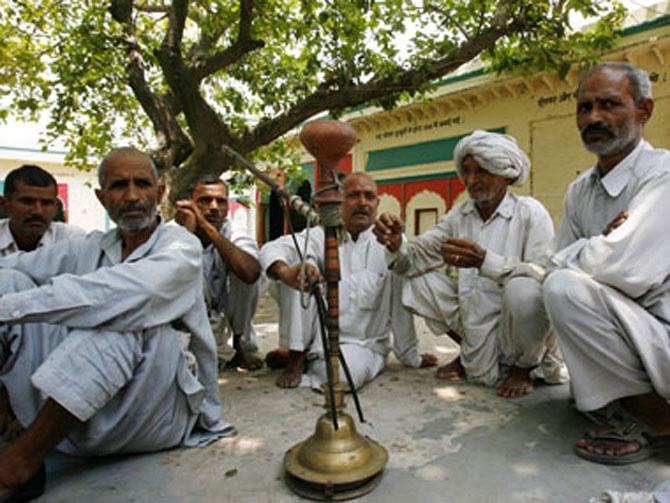 Chaos reigned in Haryana on Saturday with escalated violence in several areas as thousands of Jat protesters ran amok, setting afire government and private property and vehicles, blocking roads and highways, disrupting trains and uprooting tracks and indulging in looting.
In an emergency meeting, the Centre instructed Haryana government to control law and order situation. This was conveyed by Cabinet Secretary P K Sinha to Haryana chief secretary D S Dhesi and DGP Yashpal Singhal at a meeting held through video conferencing.
"The Cabinet Secretary reviewed the prevailing situation in Haryana and took inputs from the Chief Secretary and DGP," a senior government official said. Union Home Secretary Rajiv Mehrishi and others senior officers were present in the meeting.
Four people were killed on Saturday as the stir intensified with protesters torching a railway station in Jind. Army conducted a flag march in curfew-bound districts of Rohtak, Bhiwani and Jhajjar. Earlier in the day, around 200 paramilitary personnel were airlifted to Rohtak from Delhi after protesters blocked all roads connecting Delhi with the riot-hit region.
On political front, Bharatiya Janata Party leaders from Haryana met party president Amit Shah in New Delhi and apprised him about the situation. Shah asked Chief Minister Manohar Lal Khattar to speak to Jat leaders and find a solution to the problem.
Union Rural Development Minister Birender Singh, a senior Jat leader from Haryana, said "I appeal to the people leading the agitation to hold talks with our leadership… Youths who are at the forefront should also join talks."
However, Jat leaders refused to call off the agitation unless the government promulgated an ordinance to include the community in the OBC category. All India Jat Aarakshan Sangarsh Samiti's president Yashapal Malik said, "We will not withdraw our agitation unless the state government brings an ordinance for giving reservation to Jats."
Western Railway announced cancellation of eight trains that were scheduled to pass through the affected region. Also, fifteen mail services were short-terminated and five other trains diverted.
Production halts at Maruti Suzuki plants
The protests have crippled supply of components to auto makers in Gurgaon-Manesar region, forcing players like Maruti Suzuki to temporarily suspend production.
A prolonged agitation could impact more players. Other leading companies based here are Hero MotoCorp, Honda Motorcycle and Scooter India, and component makers like Sona Koyo and Minda.
Maruti Suzuki has suspended production at Gurgaon and Manesar plants beginning Saturday afternoon. The company is learnt to have declared holiday for its 5,500 permanent and 8,000 temporary workers. "Owing to the agitation in Rohtak and nearby areas, supplies of certain components have been disrupted.
As a consequence, the company has had to temporarily suspend manufacturing of cars," the company stated. The combined output from Manesar and Gurgaon plants is about 5,000 vehicles per day.
Maruti Suzuki had seen low sales growth of 0.8 per cent in January. The company had attributed it to lower number of working days last month. If situation doesn't improve soon, the company's February sales may be impacted.
Hero MotoCorp has two of its four manufacturing facilities in Gurgaon and Dharuhera. "Normal production is going on at our plants in Haryana. Our despatches from the plants have, however, been affected due to the blockade of the National Highway and other roads. We don't expect this to have any impact on our customers for now, as there is adequate stock with our dealers," said a Hero MotoCorp spokesperson.
Other automobile companies also said that dispatches from all manufacturing units to markets were hit due to the stir. Manesar industrial belt is home to about 1,000 small and big plants. The agitation impacts about 150,000 workers in the region.
MNCs in Gurgaon nervous
On the outskirts of Delhi, Gurgaon is home to offices of 300 of Fortune 500 companies. It is also IT and ITeS hub of North India, serving clients across the world 24x7. Saturday's violent protests have forced these companies to take emergency measures.
"We are based out of Udyog Vihar (in Gurgaon) and for the last few days we have been monitoring the situation. While till now we are running on full strength, if the agitation continues, we will have to ask our employees to work from home. It will cut down our operations by 30-40 per cent," said Rajesh Kaul, co-founder and CEO of Tirotech Solutions, an application development and m-commerce service company.
A host of e-commerce companies are based out of Gurgaon including Snapdeal, Shopclues and Zomato. On Saturday, many companies decided to end shifts earlier than usual to ensure safety of their employees.
"We had a couple of employees working on Saturday, but after reports of problems in nearby areas, we asked them to immediately go home," said a senior official at Shopclues.
Most companies said they were monitoring the situation and the decision on Monday's operation will be taken on Sunday. "We are finding out more about the ground situation from authorities and will issue an advisory to employees by Sunday as the picture would be clearer then," said a source at Snapdeal.
Market experts said if the stir continues, Monday might see many empty offices. "Till now, there has not been much impact on businesses in Gurgaon. We have to wait till Monday to see how deep the impact of this agitation is. Such stirs have a negative effect on multinational giants and send out bad signal. If the stir continues, then not only Gurgaon, offices in Faridabad would also be affected," said Rohit Bhatiani, director, Deloitte in India.
Socio-economic profile of Jats
Jats' demand for reservation in Haryana was rejected in 1997 by the National Commission for Backward Classes, but the political lobbying has kept the issue alive:
25% of Haryana population
21% share in class I & II services of state govt
87% community members engaged in agriculture
12% children of the community (aged 6-14) never attended school
6.5% enrolment at graduation level, lesser than state average of 8.3%
1.71% enrolment at PG level, a
Against state average of 2.26%
According to estimates, there are 85 mn Jats in India
Jats are a key caste in 30 Lok Sabha seats in Delhi, Haryana, Rajasthan and Western Uttar Pradesh
In Haryana and Rajasthan, Jats are a land owning community
Jats are included in the Central List of OBCs in Gujarat (only Jat Muslims) and Rajasthan. They are included in 9 state OBC lists
Comparable figure for castes in the OBC list not available Source: NCBC website