Visiting Japanese Prime Minister Yukio Hatoyama will meet top Indian industrialists in Mumbai on Monday to discuss the state of the global economy, the impact of the financial meltdown and ways to tackle it, the environment agenda post-Copenhagen, ways to increase trade between the two countries and foreign direct investment.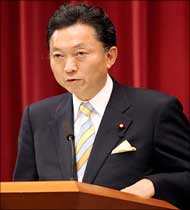 In the closed-door meeting, he will first hold parleys with Tata Group chairman Ratan Tata and Reliance Industries chairman Mukesh Ambani. Subsequently, Hatoyama will meet Bajaj group's chief Rahul Bajaj, Maruti Suzuki chairman R C Bhargava, Godrej group head Adi Godrej, Godrej & Boyce chairman & managing director Jamshyd N Godrej, Bharat Forge chairman Baba Kalyani, Mukand Steel co-chairman and managing director Rajesh Shah, and Jubilant Organosys co-chairman and managing director Hari S Bhartia.
This is Hatoyama's maiden visit to India. He is also the first Japanese Prime Minister to visit India in 25 years, after Nakasone in May 1984.
The Japanese government announced an $81 billion stimulus package on December 8 to prevent the economy from tipping back into recession. On the environment front, Japan has announced a 25 per cent cut in emissions by 2020.
"The PM's meeting with Ratan Tata takes place at a time when a joint venture between Tata Teleservices and Japanese telecom major NTT DOCOMO has made its presence in GSM telecom services in India. The meeting with Mukesh Ambani is also crucial as he represents the Japan-India Business Leaders' Forum here. All crucial issues including the recovery in the global economy, the impact of the global slowdown on India and Japan, and tapping further potential between the two countries will be discussed," Japan's Consul General Shinchi Iida told Business Standard on Saturday.
He said the Japanese prime minister would leave for Delhi to address a business meeting organised jointly by the Confederation of Indian Industry, Federation of Indian Chambers of Commerce & Industry, and Associated Chambers of Commerce & Industry on Monday itself.
He will also meet Prime Minister Manmohan Singh and other dignitaries to discuss a plan of action to strengthen relations between the two countries with regard to regional and international challenges.
In a recent survey commissioned by the Ministry of External Affairs, respondents perceived Japan as a technologically-advanced, economically-powerful and peace-loving country. The survey showed that there were strong public images in India of the Japanese people as diligent, efficient in management practices, and inventive.
Asked about Japan's international contributions, 61 per cent of the respondents were positive on the question whether Japan was playing an international role commensurate with its economic power, 79 per cent perceived Japan's economic assistance to India as beneficial, and 94 per cent welcomed the presence of Japanese companies in India.