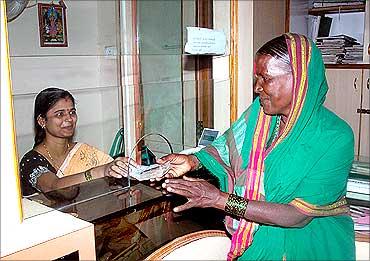 Government has asked all state-owned general insurers and country's largest life insurer Life Insurance Corporation of India to finalise the micro-insurance products to be sold to account holders in the second phase of the Jan Dhan scheme to be rolled out from January 26.
Ministry of Finance, Joint Secretary -- insurance, Anoop Wadhwa, had reviewed the progress of development of micro-insurance products at a meeting in the national Capital on Tuesday.
Even though the insurers were asked to start hawking these micro-insurance products only during the Phase-II of the scheme, to be rolled out from January 26 next, the insurers have already started selling such products in small numbers.
"At the meeting, Wadhwa asked all of us to be ready for the formal launch of micro-insurance products as part of the Jan Dhan scheme," United India Insurance chairman and managing director Milind Kharat told PTI.
The meeting was attended by heads of all the state-owned general insurers, except New India which was represented by its general manager Sanath Kumar.
LIC was represented by its managing director S B Mainak.
The insurers were asked to aggressively sell 15 micro-insurance products to Jan Dhan beneficiaries.
The proposed products include crop cover and personal accident cover.
The scheme, which was unveiled by Prime Minister Narendra Modi on August 28, has already been a success with over 5.5 crore (55 million) accounts being opened and banks collecting nearly Rs 4,000 crore (Rs 40 billion) in deposits since the launch.