Arun Jaitley raises allocation to rural jobs guarantee scheme by Rs 5,000 crore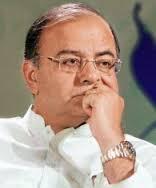 Finance Minister Arun Jaitley on Thursday accused the previous government of compromising with the quality of fiscal consolidation by postponing expenditure, saying the quality of the deficit was as important as its numerical figure.
Replying to a debate in the Rajya Sabha on the government's appropriation Bill, he said allocation to the Mahatma Gandhi National Rural Employment Scheme would be raised by Rs 5,000 crore (Rs 50 billion) to Rs 39,000 crore (Rs 390 billion) for 2015-16 compared to the Budget estimates given at the time of presentation of the Union Budget in Parliament.
The House later approved the bill by voice vote.
The Lok Sabha has already cleared it.
Jaitley and the Congress party's Anand Sharma, deputy leader of the House, clashed over the additional amount to be given to states on the 14th Finance Commission report.
Jaitley again sought cooperation of the Opposition in clearing legislation in the Rajya Sabha, saying obstructionism could be a temporary tactic, not a permanent feature.
He said the earlier Congress-led government had postponed tax refunds and subsidy payments, to lessen the fiscal deficit figures.
"For instance, where was the central sales tax compensation, promised by the United Progressive Alliance (the then coalition) ever shown in your fiscal deficit figures? I am having to create that money now."
The Cabinet had earlier this week cleared the release of Rs 33,000 crore (Rs 330 billion) in tranches to states and Union Territories, to compensate them for revenue loss on account of a cut in CST for three financial years up to 2012-13.
In the first phase, Rs 10,800 crore (Rs 108 billion), payable for 2010-11 is to be paid this financial year.
The government will set aside Rs 15,028 crore (Rs 150.28 billion) for this purpose in 2015-16 as well.
CST compensation is important to rope in states for a constitutional amendment to enable a national goods and services tax.
Jaitley defended his decision to delay the earlier schedule of achieving a fiscal deficit at three per cent of gross domestic product by a year.
He said the economy had been slowing and more money was going out of the Centre's hands following the FFC recommendations and the likely 7th pay commission report.
Ruling and Opposition benches often clashed over the figure of fund transfers to states following the FFC report.
Jaitley said states would collectively get another Rs 1,86,000 crore (Rs 1,860 billion) next year, because of their larger share in the divisible pool.
Another Rs 24,190 crore (Rs 241.9 billion) would go to them as increase in grants.
However, because of the shift in some schemes to states, the Centre's contribution to state plans would lessen by Rs 75,000 crore (Rs 750 billion).
On a net basis, states would get approximately Rs 1.35 lakh crore (Rs 1.35 trillion) more.
Sharma said devolution to states from the divisible pool would rise to 63 per cent in 2015-16 from 49 per cent in 2014-15 and grants would increase from nine per cent to 13 per cent.
So, an 18 per cent increase in these two heads.
Image: Finance Minister Arun Jaitley; Photograph: Reuters