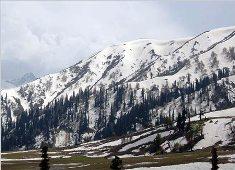 Jammu and Kashmir's economy has taken a hit from the rash of strike calls given by separatists groups and curfew in the Valley in the aftermath of the hanging of Parliament attack convict Afzal Guru with the industry pegging the loss at an estimated Rs 4,500 crore (Rs 45 billion).

Tourism and handicrafts sectors -- the pivots of state's economy--were the worst hit due to disturbances in normal life due to strike calls and curfew over a period of 26 days since the hanging of Guru on February nine in Delhi's Tihar jail.

The business community of Kashmir claims that it lost Rs 175 crore (Rs 1.75 billion) to Rs 200 crore (Rs 2 billion) in sales every day, be it due to strike called by separatists or curfew clamped by authorities.

"The business community alone bears the brunt of the shutdowns in Kashmir. Besides losing an opportunity to earn, we are losing money due to overhead expenses, bank interest and employees' wages," President of Kashmir Chamber of Commerce and Industry Abdul Hamid Punjabi told PTI in Srinagar on Thursday.

Punjabi and other officials estimate that the loss to the economy so far could be to the tune of Rs 4,500 crore (Rs 45 billion).

On an average, a profit of Rs 10 crore (Rs 100 million) is made each day on sales, they said.

The loss to the economy also had a cascading effect with a senior official in the state's Finance department saying a shutdown in Kashmir denied the government an estimated Rs 170 crore (Rs 1.7 billion) per day in revenues from various sources like sales taxes and other levies.

Since the execution of Guru on February 9, authorities imposed curfew as a precautionary measure to maintain law and order.

Out of the days lost, separatists have given strike calls for 13 days to demand return of mortal remains of Guru to his family.

Punjabi said tourism and handicrafts sectors were the worst hit.

"Hoteliers and people associated with tourism industry like houseboat owners, taxi operators and travel agents suffer the most. More than two lakh people are directly earning livelihood from this sector alone," he said.

The handicrafts sector alone brings in revenue to the tune of Rs 1,700 crore (Rs 17 billion) every year but in the absence of tourists--the
most likely buyers of these products in Kashmir, this sector also takes a big hit, he said.
Kashmir witnessed two peaceful years in 2011 and 2012 with an estimated 20 lakh (2 million) tourists and pilgrims visiting the Valley last year alone, surpassing all previous records.
The peace in the valley had generated hopes of even a better tourism season this year as many businessmen had invested in creating new infrastructure like constructing new hotels to cater to the rising influx.
However, many of them have are keeping their fingers crossed as they are not sure how the rest of the year will pan out.
"I was planning to construct a 30-room hotel in the city as Kashmir was witnessing tourism boom for the last couple of years. However, I have delayed the start of construction due to the situation developing in the Valley at the moment," Mohammad Arshad, a handicrafts dealer, said.
Arshad said he wanted to diversify his business and had purchased land last year in December in the hope of starting his project in March this year.
A senior official in the state's Finance department said a shutdown in Kashmir denies the government an estimated Rs 170 crore (Rs 1.7 billion) per day in revenues from various avenues like sales taxes and other levies.
The state government also have no choice over payment of salaries to its employees for absolutely no work done during the shutdowns.
The salary bill of the state government per day in Kashmir Valley is a whopping Rs 18 crore (Rs 180 million), an official said.
The loss to the state's economy could escalate in the coming days as Majlis Mashawarat (Consultative Committee) continues to issue weekly protest calendars to press for the demand of return of Guru's body to his family.
This has become a cause of concern for most of the people, especially those who earn their livelihood on daily basis.
"If this trend of strikes continues, I will not be able to feed my family, not to mention paying the EMI of my taxi loan or paying the school fees of my son," Rafiq Ahmad, a taxi driver, said.
© Copyright 2023 PTI. All rights reserved. Republication or redistribution of PTI content, including by framing or similar means, is expressly prohibited without the prior written consent.