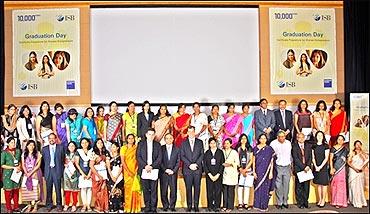 The Indian School of Business in Hyderabad is offering free management education to women entrepreneurs.
Held in partnership with the 'Goldman Sachs 10,000 Women Initiative', ISB trains more than 100 women every year to empower them and enhance their skills in various aspects of business.
The Indian School of Business plans to expand the reach of the programme to Tier-2 cities by partnering with other B-schools.
"Over 200 women have completed this programme from Delhi, Bengaluru, Pune and Hyderabad since the launch in 2008," says Deepak Chandra, Deputy Dean, Indian School of Business.
In a male-dominated space, a course of this nature helps women move a step ahead. "As more women turn into entrepreneurs, the society's perceptions about women will change. We would like to give women an opportunity to rise and contribute significantly to growth of our economy. We have seen that women entrepreneurs are very enthusiastic about their work," says Chandra .
The ISB also helps these women connect with a network of people who can guide them and also offer financial support. Besides the tangible benefits, the course has helped women become more confident, develop networking and negotiating skills and understand customer relationship skills.
"Entrepreneurship drives the economy. You cannot grow the economy if 50 per cent of the entrepreneurship population is underserved. This programme is a clarion call to women entrepreneurs to change their mindsets and involve themselves actively in social change and economic growth," explains Chandra.
Women entrepreneurs have witnessed a progress in their ventures in terms of revenues and profitability. About 30 per cent of women who participated in the program saw their businesses grow in terms of revenues.
Sudha Sathye who runs a retail business called Ultimate Kitchen & Furniture, says the course has enhanced her knowledge about brand building. "The course was good and helped me
work on the brand image as well. It is very essential for a woman to establish an identity as an entrepreneur," says Sudha.
Interestingly, the majority of women who joined the course are in the manufacturing sector (24%), followed by food & beverages (20%), textiles and clothing: 19%, retail services (17%) and Technology (16%).
Priya Parab, a Mumbai-based entrepreneur has received a positive response from the market and is upbeat on business prospects.
"It was an excellent course. I joined at the right time when I was planning a business expansion and I got the business plan verified, so my long term strategy is in place. I plan to start a manufacturing unit soon, says Priya who has made her own formulation of a natural health shake mixes & wellness foods business called Strombss.
This 16-week programme comprises 3 weeks of classroom sessions with 13 weeks of mentoring support on the job.
The curriculum is based on research and supports the participants to understand and use management tools for profit making and business expansion. The participants also get the benefit of continuous mentoring support in their own cities even after the completion of the programme.
Divya Keshav, who runs a self adhesive tape business based in New Delhi, has received good insights into negotiating with clients and dealing with people. Women entrepreneurs are often not taken seriously and many times negotiating with clients often becomes a major problem, Divya says.
"The course has helped me give a professional and modern outlook to my traditionally run business. I have benefited from networking and the mentoring sessions and learn from other women entrepreneurs," says Divya, who has achieved a 100 per cent growth in sales.
Currently, this programme is being offered in Delhi, Bengaluru, Pune, Hyderabad and Mumbai. The ISB also plans to do a research on the impact of this course on women entrepreneurs.
The ISB held an information session in Mumbai on Thursday at the Welingkar Institute of Management Development and Research.