Son's offer to supply free power after 25 years is based on the idea that the cost of running a solar plant would progressively decline while its efficiency would increase.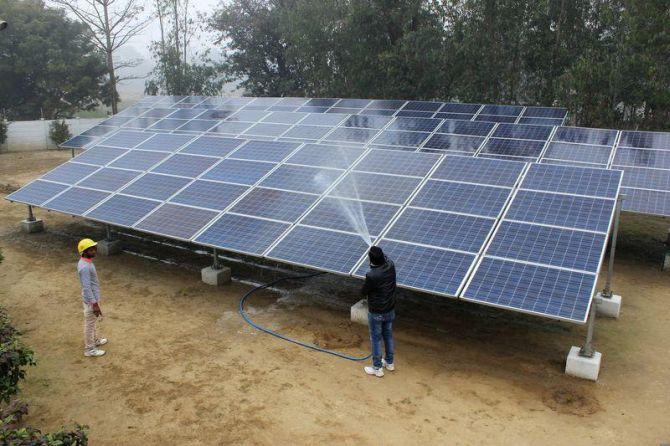 Three years ago, when SoftBank decided to enter the country's solar industry, its flamboyant chief executive officer and founder Masayoshi Son's move was described quite aptly by partner Sunil Mittal.
"Masayoshi does nothing small," Mittal, chairman of Bharti Enterprises, had said while announcing a three-way partnership between SoftBank, Bharti Enterprises and Foxconn in June 2015.
Son's plan of manufacturing and running power plants, envisaged at an investment of $20 billion, may have only partially materialised so far, but he has already doubled down on his ambitions.
In October, he made a grand announcement to offer free power.
"I have this special offer which I discussed with Prime Minister (Narendra) Modi," Son said. "I will offer free electricity after 25 years."
The move is potentially disruptive, but is it feasible? And could it put others out of business?
According to data collated by renewable energy consultancy Bridge to India, SoftBank's SBG Energy has investment commitment of about Rs 12,600 crore, or $1.7 billion, totalling 2,050 MW in India.
Son's offer to supply free power after 25 years is based on the idea that the cost of running a solar plant would progressively decline while its efficiency would increase.
One way this could happen is via use of advanced technology such as robotics for maintenance of panels.
"By then, technology would have revolutionised the maintenance cost, which will be zero," said a person in the know.
Though technology is constantly evolving, leading to efficient ways of maintenance, it is difficult to imagine that a power plant will not incur any operational cost.
"As a matter of fact, there are no free lunches.
"Operational cost, which would be incurred later would also be factored in the tariff (during the contract period)," says Gyanesh Chaudhary, managing director and chief executive officer, Vikram Solar, one of the leading solar equipment manufacturers in India.
If a solar power developer plans to provide free power after 25 years, the power tariff will be designed in a way that the developer gets the return on equity in the first 25 years itself.
Therefore, developer will be able to recover the investment along with the return, says Chaudhary.
He says the modules used in solar plant have a shelf life of 25 years and his company provides linear warranty of 27 years.
To be sure, older thermal or hydel power plants, too, have the advantage of supplying electricity at cheaper rates.
NTPC's Korba Super Thermal Power unit and Bhakra dam are old plants that generate power at low cost, points out Sanjay Kumar Shukla, managing director, MP Power Management Company, the holding company for Madhya Pradesh's state-owned distribution companies (discoms).
Discoms look for the cheapest sources when tying up power purchase agreements so that they can walk the tightrope of passing on procurement cost in retail tariffs and remain financially sound.
The Korba power plant set up in 1983 has seven units in all.
Of these, three of 200 MW each are old plants that supply power at below Rs 2, while power from the remaining four units, last of which was commissioned in 2010, is supplied at over Rs 3.
NTPC, in fact, sells power from its projects at an average rate of Rs 3.20, with tariff from its older plants being in the range of Rs 2.10 to Rs 2.20, while that from newer ones Rs 4 to Rs 4.5.
Older plants supply cheaper power because they are fully depreciated in account books and also because most of them are near coal mines which brings down the transportation cost.
Unlike thermal, where coal cost will always be there, renewable sources of solar, wind and hydel do not have to incur fuel cost.
However, operation and maintenance (O&M) cost will always be incurred, even for renewable, since generation sites need substation for transmission.
Even if robotics or any other new technology is involved in maintenance of solar power plants, it will still have to bear some cost.
"The tariff cannot be nil since there will be operational cost as well. Besides, some investment has to be made, otherwise performance goes down.
"In the case of thermal power, for instance, coal is consumed more efficiently by plants that have newer equipment," says Shukla.
The design life of power plants is estimated to gauge economic viability of a plant, but the plants can run far longer, says Shukla. Power houses in hydropower plants, for instance, may be designed for 30 years, but their dams have a longer life.
The Bhakra project, for instance, completed 50 years in 2013.
It has already lived its full lifetime, but based on silt deposition, the reservoir (Gobind Sagar lake) has a life of more than 300 years, according to the Bhakra Beas Management Board. Power from Bhakra is priced at just Rs 0.96 a unit (kilowatt an hour).
Unlike older power plants, where the generator and the purchasing entity mutually agreed on tariffs, since regulators came up much later, all power purchases in the country are currently done through tariff-based bidding.
The lowest bidder bags the contract. So, a generator loading on to the tariff the costs incurred post 25 years of operations may not be the lowest bidder and hence may struggle to win contracts.
The regulatory framework, therefore, will need to evolve for projects to offer free power.
"Any framework will need to see that more renewable is added and, at the same time, whether it is economically viable for distribution companies to procure power," says Shukla.
While Son's free power offer has set the cat among the pigeons, the ground reality may be vastly different.
Photograph: Manipadma Jena/Reuters