With growing impetus on local manufacturing and sourcing norms, the entry ticket will only become dearer for small and large equipment manufacturers from overseas.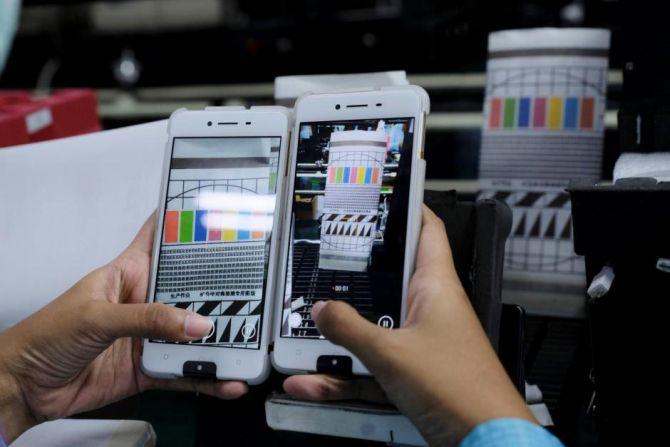 The number of new Chinese handset manufacturers setting up shop in India has started to come down after reaching a high point in 2015, when 10 major Chinese brands entered the country. Only seven Chinese firms entered the market last year.
India has been a favourite destination for handset manufacturers since the beginning of this decade. While Chinese firms had a strong presence in the unbranded feature phone market since mid-2000s, with the rise of android smartphones, their presence grew in the branded market, too.
After the decline of Nokia, the share of Chinese players grew exponentially in the smartphone market here -- from less than 10 per cent in 2012 to well over 50 per cent in 2017. The advent of the 4G LTE technology and e-commerce only aided this growth.
By late 2014, major players such as Xiaomi, Vivo, Oppo, and Gionee -- which now rule the local market -- had entered India. In 2015, brands such as Meizu, Coolpad, and TCL came. In 2016, Le Eco and iTel entered. In 2017, Comio, I-Bhoomi, and Voto set up shop .
According to Counterpoint Research, 2015 was the best time to enter the market because of the simultaneous growth of e-commerce and 4G. Chinese brands had the first-mover advantage due to their 4G-ready portfolio in China and experience with the e-commerce market.
But with less and less of differentiation in hardware and features among brands, new firms are finding it difficult to find a foothold. The first-mover advantage with technologies like 4G LTE and superior cameras is now a thing of the past. And sustaining the competition on the pricing front and finding visibility on retail market is becoming costly.
Sanjay Karilona, chief executive and director, Comio India, says the firm decided to enter the market after a year of study and finding a sweet spot to target. However, over the past few years the retail environment has turned more competitive, as cost of expansion has gone up. At present, Comio is sourcing from third-party manufacturers, but plans to set up its own unit this year.
All major Chinese brands that hold a significant market share and consumer recall have invested millions of rupees to set up manufacturing units, research centres, and on promotion.
Top player, Xiaomi, which now holds a fourth of the market, has close tie-ups with global leader in handset manufacturing, Foxconn. Xiaomi procures over 95 per cent of devices locally, has invested in offline retail, and has opened branded stores. And, its R&D centre in Bengaluru employs hundreds of researchers.
Vivo set up its first plant in Noida in late 2015, with an investment of over Rs 1 billion. It spent Rs 22 billion to secure title sponsorship rights for the Indian Premier League. Sister concern, Oppo, apart from setting up its own plant in the same region, is spending Rs 11 billion to buy sponsorship rights of the Indian cricket team.
Another Chinese player, Lenovo, which features at the third spot in the smartphone market with a six per cent share, has also spent millions of rupees in setting up a manufacturing facility in Chennai.
"Most of the leading smartphone brands are already present here and are expanding their presence in the market -- in both offline and online channels -- leaving other players with a smaller market to target. Apart from this, smartphone users in India are now more mature as compared to a couple of years ago," an analyst from Counterpoint said.
Tarun Pathak, associate director, Counterpoint, says Chinese players would have to look at partnering local or existing players, rather than trying to sail on their own. And with growing impetus on local manufacturing and sourcing norms, the entry ticket will only become dearer for the small and large equipment manufacturers from the neighbouring country.
Photograph: Beawiharta/Reuters.