While the recent volatility in the secondary markets is a concern, experts believe the sentiment towards IPOs is still buoyant.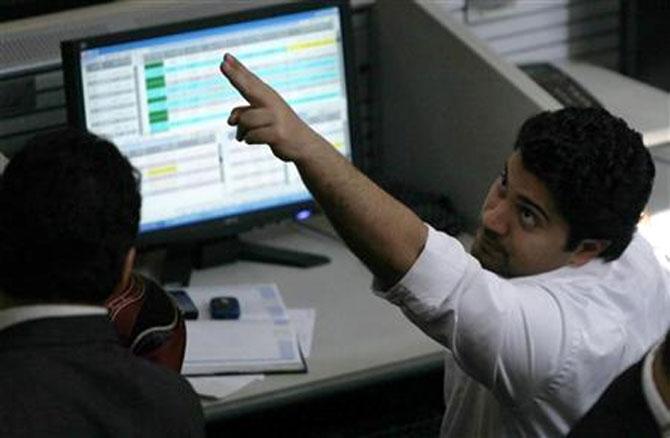 It is going to be a busy season again for the initial public offering (IPO) market.
At least four deals worth a cumulative Rs 4,000 crore is expected to hit the market over the next 3-5 weeks, said investment banking sources.
These include companies that had earlier deferred their fundraising plans.
Shyam Metalics, Dodla Dairy, Krishna Institute of Medical Sciences (KIMS) Hospitals, and Clean Science and Technology are among the companies planning to tap the market.
While the recent volatility in the secondary markets is a concern, experts believe the sentiment towards IPOs is still buoyant.
Bankers said many new investors had taken a liking to IPOs -- a big confidence booster for issuers.
"The immediate volatility is not a concern. People are factoring in the next financial year numbers. Investors expect the next year to be normal and growth-oriented, giving comfort to issuers," said Ajay Saraf, executive director, ICICI Securities.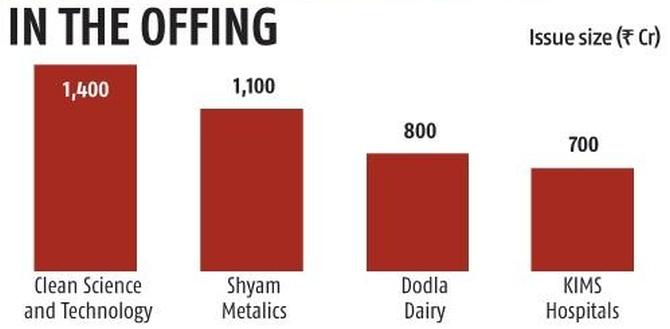 Experts said the markets have not given up significant gains despite volatility.
Moreover, mid and small-cap stocks have done well so far this year. Most of the new issuances come under the mid- and small-cap category.
"People have not withdrawn money from the market. Investors continue to trade and liquidity is holding up," said Skanda Jayaraman, head investment banking division, Spark Capital.
The robust demand for IPOs across categories of investors last year is another factor giving hope to companies planning their market debut.
The financial year 2020-21 (FY21) proved a profitable year for investors in IPOs, with over 70 per cent companies providing gains on listing day.
The average listing-day gains stood at 34 per cent, the highest in about five years.
As many as 31 maiden offerings hit the market in the financial year.
Of those, the stock prices of 22 companies finished higher than their issue price. And four stocks -- Burger King, Happiest Minds, Indigo Paints and Mrs Bectors Food -- even saw their stock price double on the first day.
Though some recent IPOs saw a lukewarm response, bankers said investors' appetite for companies with solid fundamentals and reasonable valuation is intact.
"It's all issue-specific. If investors like an issue, they lap it up," said Saraf.
The filing of offer documents with the Securities and Exchange Board of India (Sebi) has gained momentum.
Close to a dozen companies approached the regulator with their IPO plans in the past six weeks.
These included online food delivery and restaurant discovery platform Zomato, which filed for a Rs 8,000 crore IPO, Aditya Birla Sun Life AMC, India's fourth-largest asset management company (AMC), and Chemplast Sanmar.
"Despite the optimism, the impact of rising Covid cases is worrying issuers. If the Covid situation necessitates a countrywide lockdown and if vaccination rollout remains slow, it can affect the issues," said Jayaraman.
Inflationary pressure in the US is another concern. "Whether higher inflation would lead to Fed hiking rates needs to be seen," said Saraf.
Feature Presentation: Rajesh Alva/Rediff.com