Vedanta investors were jittery on Tuesday as its share price fell and bond yields of its parent firm rose following concerns raised by a rating agency on its capability to repay debt maturing later this year.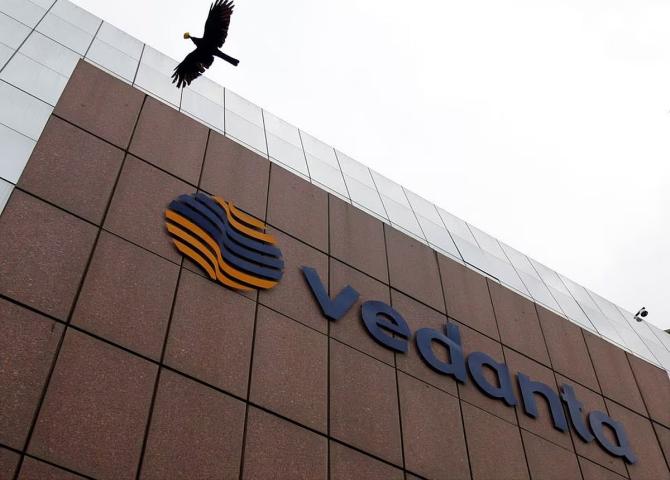 Shares of the mining and metals major were down by 7 per cent on Tuesday to Rs 268 a piece on the BSE.
The company has lost market valuation of 30 per cent in the last one year and 13 per cent since January 1 this year.
Yields on the bonds of Vedanta Resources, the parent firm of the BSE-listed Vedanta, shot up to 39.8 per cent — showing investors' rising concern over the group's debt situation (see chart).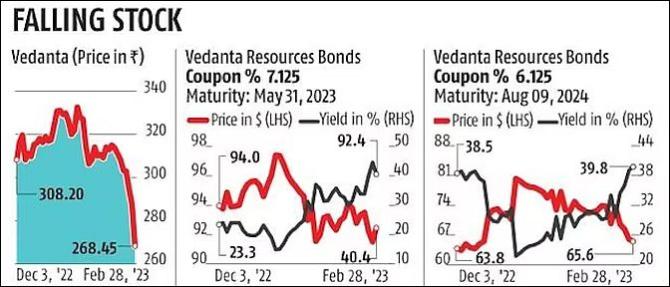 In a setback, the group's plans to merge its overseas zinc business with Hindustan Zinc, a listed entity, was nixed by the Centre on February 17.
The central government owns close to 30 per cent stake in Hindustan Zinc and said it would oppose the merger because it is against the interests of small shareholders.
The company earlier tried to sell Electrosteel Steel and its Tuticorin copper unit but could not attract any buyers.
The entire promoter stake in Vedanta is under non-disposal undertaking, according to BSE data till December.
Vedanta Resources consolidated net debt is $11.8 billion.
In a statement on Tuesday, Vedanta Resources reiterated that it has prepaid all its maturities due till March 2023 and has deleveraged by $2 billion in the past 11 months.
"We would like the investors to note that Vedanta group operating companies, underpinned by strong operating profitability from diversified and low-cost tier-1 assets, are delivering healthy cash flows while maintaining disciplined capital allocation," it said in a statement.
During FY22, Vedanta delivered earnings before interest, taxes, depreciation, and amortisation (EBITDA) of $6.1 billion and free cash flow (pre-capex) of $3.6 billion.
"Vedanta is fully confident of meeting its upcoming maturities in the quarter ending June 2023.
"We have multiple options for both refinancing as well as repayment through internal accruals.
"We are in advanced stages to tie up the required financing through a $1-billion fresh loan from a syndicate of banks.
"We are also close to finalising $750-million bilateral facilities with various relationship banks.
"The remaining liquidity requirements can be addressed internally," it said.
Vedanta does not have any pledges except 6.8 per cent of Hindustan Zinc's shares, it added.
Vedanta Resources holds 70 per cent stake in Vedanta, which, in turn, owns 65 per cent in Hindustan Zinc.
On February 9, S&P had warned that Vedanta Resources' liquidity situation is dependent on its ability to raise a $2 billion fund and the HZL deal.
The HZL deal is now off.
S&P had said the company is highly likely to meet its obligations until September this year but sustaining liquidity beyond would depend on $ 2 billion fund raising and HZl deal.
S&P said the external funding is critical for debt maturities after September, which include $500 million of loan repayments in the quarter ending December 31, and a $ 1-billion bond in January next year.
If the company raises at least $1.75 billion as targeted, it will be fully funded until January 2024. In this scenario, it will also have low dependence on dividends from Vedanta until December.
The cash that will be retained will support the refinancing of the January 2024 maturity, S&P said.
Vedanta Resources is fully funded until March 2023, following a dividend declared by Vedanta in January.
But Vedanta Resources would need to raise a minimum $500 million to meet its obligations until June.
Debt repayments during this period include $300 million of inter-company loans and $350 million to two relationship banks.
"We believe these offer the company some funding flexibility," it added.
In the absence of significant fundraising, Vedanta Resources will be left with very little cash of about $500 million, following the repayments, S&P had said.