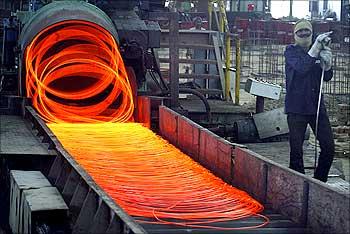 The Aditya Birla Group's flagship firm Hindalco and its North American subsidiary Novelis, are set to reap the dividend of new facilities set up during the post-Lehman lean years.
In an interview with Aditi Divekar and Dev Chatterjee, Hindalco's managing director and vice-chairman of Novelis, D Bhattacharya, talks about why Novelis will be the turnaround story of the year and how Hindalco is performing as good as any of its competitors across the world. Excerpts:
How do you expect Novelis to perform in the coming quarters, considering Moody's had threatened to downgrade the company in March?
The threat to downgrade Novelis was more to do with industry issues than with Novelis itself. We expect Novelis to do well in the coming year due to three reasons.
One, demand from the automobile sector for aluminum is expected to go up in the coming years. Two, economies across the world are picking up pace. Three, recycling of cans is going up substantially.
We have invested $2 billion in the expansion of Novelis' facilities in emerging markets in the last few years.
This expansion will now contribute to Novelis' margins and profits in the coming quarters.
Overall, we are optimistic about Novelis as we ramp up recycling operations further and car sales pick up in North America.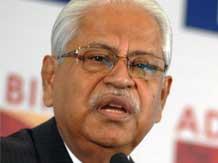 What specific steps has Novelis taken to improve its performance?
All expansion projects in Novelis have been executed on time and in many cases before time. We have reduced input costs via recycling, which was 29 per cent when we took over (in 2007).
Now recycling has increased to 50 per cent and we plan to ramp it up to 80 per cent. We will make the company more sustainable, environment friendly and lower input costs.
We will focus on three major verticals - cans, cars and speciality products - and improve in each.
Also, the automobile sector will be using more aluminium than steel by law (in western countries). This will be a game-changer for Novelis. The sales to auto companies will triple from the current nine per cent of total sales to 25 per cent by 2020.
Is the worst behind for the Indian economy. Do you see a pick-up at Hindalco's facilities?
Sentiments have improved considerably. Hindalco has done very well with Rs 900 crore (Rs 9 billion) of earnings before interest, depreciation, tax and amortisation in the first quarter of this fiscal year.
Due to high finance costs, the profit after tax was down in the June quarter but as we ramp up production, the benefits of our expansion will be visible.
Our debt is under control as we have a gross debt of about Rs 23,000 crore (Rs 230 billion) and a net debt of Rs 15,000 crore (Rs 150 billion). And we have Rs 8,000 crore (Rs 80 billion) in treasury.
What is your plan for the Mahan coal block if clearances do not come as expected?
We can only request the government to hurry up. But we do have a Plan B for Mahan and for other plants in Odisha.
We are trying to learn to improve performance of our plants even without our own coal block. In the unlikely event of the coal mine getting delayed, we will survive. But when the coal block comes to us, we can be more positive.
The government increased royalty on minerals yesterday. What will be the impact on your business?
There will be a direct impact of the royalty hike on our earnings.
I do not have a number in mind but since the hike is on bauxite, which is just a part of our total input cost, the impact will not be significant.