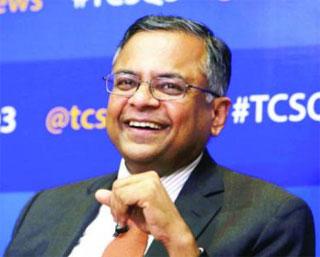 N Chandrasekaran, chief executive officer and managing director, Tata Consultancy Services, is confident of bringing in industry-leading numbers, despite soft third quarter results. In an interview with Shivani Shinde Nadhe and Sheetal Agarwal, he talks about growth, the slow uptick in the Diligenta business and digital spending. Excerpts:
The volume growth of 0.4 per cent is the lowest for TCS but your comments on spending are bullish...
There is no dichotomy. Volume has to be looked at based on the structural performance. The third quarter is a weak quarter simply because you do not have enough working days due to holidays and furloughs. This impacts volume. Volumes can be down because clients ramp down too. That can be a problem. But that's not the case here. This is not an indication of lack of business momentum.
We have been saying that pricing and volume should be looked at together, as we have fixed, time and material contracts. This quarter's growth would have been considered spectacular if we had not delivered the extra 30-50 basis points (a basis point is a hundredth of a percentage point) in the second quarter. Revenue growth is the best parameter. One should just look at what the impact of currency has been on revenue.
What is your take on clients' spending for 2015-16?
The broad indication we have is some clients will have flattish budgets and some may see upticks but we do not see a dip. We do see discretionary spending in banking and finance due to digital, risk and governance implementation. From an industry standpoint, we see action in retail, infrastructure, and banking and financial services. Other than Diligenta, insurance is also looking good. In terms of geography, North America, Europe and even the UK looks good.
Could you elaborate on Diligenta?
Diligenta is a different business model. It is a good business, which gives good cash flow and profits. But it does impact revenue when you do not get deals. Whenever you win a contract, you first need transformation, which means moving from legacy systems to our cloud-based system. In such a deal, when you get a contract, you get X numbers of policies but these come to an end and that is when the revenues start to taper. To avoid this, we need to get new policies. These deals are very long-cycle. I do not think this will change by the next quarter.
By when will TCS start reporting on the digital deals?
Digital is default. If you look around, pretty much everything is on the Internet. Across sectors and clients, we have seen an uptick in digital spends. Every customer is working on some aspect of it. We have made a lot of investment in digital. We have competency centres and collaboration centre in the (Silicon) Valley. We have an innovation group in each vertical like airline, retail, banking, etc. There are thought leaders in the company. We are still working on how this can be reported to investors and analysts.
Much has been written about TCS' layoffs. Should the company have reacted faster?
I have come up through the ranks. I know what a 10-year experience person will feel. This is a normal process; there was never a target. If we think we have a role that needs to be filled for a client, then we will choose one based on performance. Anybody identified as not performing means that person has had a record of this.
We are recruiting people. We are not doing any restructuring but we drive the performance structure. The general philosophy is to look at performance over a period of time and that's the way it has been approached. Its a learning process, we are still evaluating if we reacted late or should have handled social media better.