SBI Cards, like most other credit card issuers in the country, suffered losses during the financial crisis of 2008-09 due to sharp increase in delinquencies. The company, a joint venture between State Bank of India and GE Capital, turned profitable in 2010-11. Kadambi Narahari, chief executive officer, shares the strategy to grow the company's cards business in coming years.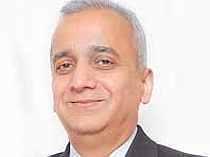 Banks are aggressively expanding their credit card portfolios again. Shouldn't they be cautious in growing their unsecured loans in the current uncertain environment?

The environment is not comparable with that of 2008-09. Credit card issuers are relying a lot on bureau data, which has improved dramatically. This has reduced the scope for delinquencies significantly. The irrational exuberance that we saw in 2008-09 no longer exists. Banks are adopting a more calibrated approach in growing their card portfolios.

The number of cards in the country declined for the fourth straight year in 2011-12, despite most banks and credit card companies re-entering the market. When will this trend reverse?

Earlier many banks were chasing the same customer and as a result an individual was offered multiple cards. Since most of these cards were left unused, they are not renewed on expiry. We call it attrition at renewal. So, while the number of cards is declining because of consolidation, the number of active cards has increased. This is reflected in credit card spends, which have been rising. I believe that we are very close to the bottom and the number will start growing from 2012-13.

With urban markets getting saturated, many banks are offering cards in tier-II and III towns. Are you following a similar strategy?

The ability
to source clients, service them and recover the money holds back most issuers from offering credit cards in deeper geographies. We have expanded our portfolio in tier II and III centres in the past 12-18 months. In many of these locations we are offering credit cards against security. So, if you have a fixed deposit with SBI we will offer you a credit card.
This strategy removes any scope of delinquency in these accounts. We are also offering cards without a security in areas that we call project towns. We are issuing these cards to corporate employees working in small towns and cities provided the company has very good relationship with us.
What is the size of your business? What are your growth plans?


We currently have a base of 2.6 million cards, which is the third largest in the country. The book size is around Rs 2,500 crore. In terms of issuance we are the second largest issuer after HDFC Bank. In two years from now, we plan to source one million cards every year.
What are your target segments?


We are present in every segment -- from very high net worth to affluent to mass. We have customers whose credit limit exceeds Rs 50 lakh. At the same time we have credit cards for the affluent and the mass segments. We are also targeting people who have just joined work. We call them the emerging segment. These are people who have the potential to become good customers in future. Hence, we want to partner them in their early life.
You have partnered banks, travel portals and car makers for co-branded credit cards. Which is the next industry where you plan a similar partnership?


I think organised retail is an area, which has huge potential. As this industry grows you will see a sharp rise in credit card usage. This is a segment where we are looking for more relationships.