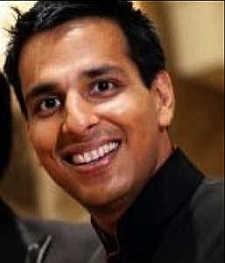 It took Ankur Singla, founder and chief executive officer of the California-based Contrail Systems, just two days after he officially launched the startup to sell it. It was acquired by California-based Juniper Networks in the kind of multi-million dollar deal that budding entrepreneurs dream of.

Singla discusses his multi-million dollar deal and the journey with Faisal Kidwai.

You and your small team launched the tiny startup Contrail Systems December 11, 2012, and it was bought just after two days for $176 million by Juniper Networks. How did it feel to sign such a big deal and earn millions within two days of the launch?

The company was incorporated in April 2012 and we were in early development phase from April to December 2012. We started customer trials in the second week of December and that is when we were acquired. The acquisition price is not disclosed - since Juniper was an early investor in the company, it bought the remaining shares for $176 million.

We were always focused on building great products and that is a journey - we are far from done. Most of the employees of the company have been in the industry for a while and are focused on the product and less amused by the financial aspects of the deal.

You have been building networking products and running operations for 14 years, including successful stints at Aruba Network and Juniper. How did your journey began?

After graduating from Stanford University, I worked as an engineer developing custom ASI's
for networking products at Motorola, GM Hughes, and Cisco where I learnt a lot about building complex systems. After Cisco, I spent four years at Juniper where I met the founders of Contrail. There we built Juniper's Ethernet switching business from grounds up with custom ASICs, hardware, and software. Those four years were the most memorable times of my professional life as we successfully competed with Cisco in their core market.
Tell us a bit about Contrail Systems.
Contrail's mission was singular - disrupt the stodgy networking vendors who were having a difficult time transitioning from hardware oriented systems to software centric systems. The agility and automation of the infrastructure that had become a competitive advantage for Google and Amazon had to be brought to enterprise environment and that would not be possible without re-working of the networking and storage stacks. We decided to tackle the networking piece first as that was our core competency.
What's your relationship with India like? Do you visit it often?
I have relatives in India and I do visit India very often, mostly Bangalore where we have a development centre.
Any advice for young entrepreneurs, especially Indian?
There are two things that are more important than anything in building a great business - great products and loyal customers. Great products are built by great teams; focus on hiring the best people and be generous in sharing equity in the company. Be agile in your product development cycle and willing to pivot as you learn along the way.