'Looking back, I feel we were poor, but back then it did not feel poor.'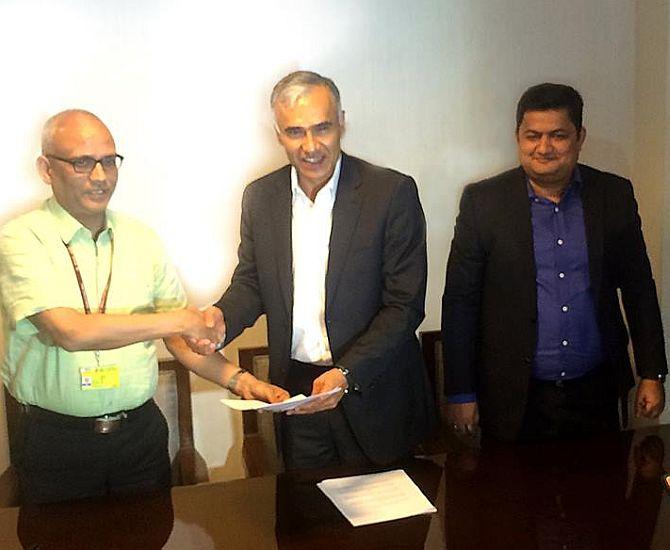 This is my second meeting with Mayank Ashar, chief executive officer and managing director, Cairn India, and I soon realise he is different from the several other CEOs I have met.
As I drive into The Oberoi in Gurgaon's bustling Udyog Vihar, I see that the hotel building is virtually invisible from outside the main entrance because of its architecture.
Ashar stays in a serviced apartment in the hotel and we are meeting at Amaranta, the minimalist restaurant named after an imaginary flower that never withers.
"I am glad it's quiet," he says reassuringly. The last time we met he had to get up and tell the guests at an adjoining table to be quiet. When I had approached Ashar for a Lunch with BS request, he had asked if breakfast would be fine.
So we are here at 8.30 am and as we order masala tea, Ashar starts telling me about his childhood when most Indians grew up idolising leaders like Mahatma Gandhi, Jawaharlal Nehru and Lal Bahadur Shastri.
Born in Miraj in Sangli, Maharashtra, Ashar grew up in Mumbai's Ghatkopar area. "I remember standing in a queue for water and ration for two hours. Looking back, I feel we were poor, but back then it did not feel poor. We had the basics — roti, kapada and makaan; decent access to education and very good social relations. It was a happy life."
Ashar says, as a country, India has lost some of the values that people used to cherish in the post-Independence days. Compared to Scandinavian countries, pushing "unethical boundaries" is more common here. Unfortunately, it starts in school and then migrates to the workplace and society.
"If there are children who cheated in school, they will cheat a lot more in society."
Ashar's father worked as a chemist with the Mafatlal group and was the first one in the extended family to get a university education.
"When my father finished his matriculation, my grandfather asked him to work. But he fought to have a university education. One of the three things that make up who I am is that one thing my father persisted with. So respect for education is still the single-biggest influence that shapes me to this day."
Despite his limited means, Ashar's father put him in the well-regarded Fatima High School in Ghatkopar. In 1970, Ashar's family moved to Canada.
There he worked while attending school. His father sold everything for the family's airfare.
His father started working at a film processing unit but could not get a manager's job. His mother, who had never worked outside the home before, joined a factory as a seamstress. Working on minimum wages, they struggled like many other migrant families. The only job that 15-year-old Ashar could get was that of cleaning utensils part-time.
"This is one of the jobs for which I have empathy. We go to a cafeteria and use a tray. I know there is someone behind that who keeps it clean," he says.
"I remember what I did at 15, so I will respect the dishwasher in the cafeteria as much as the prime minister of the country. He is no less."
As the conversation becomes intense we decide it is time to order food. "My breakfast is covered because I stay in the serviced apartment here. Barabar hai na (Am I correct)," he tells the waiter. Ashar clearly is at home with the hotel staff, who are familiar with his preferences. I decide to order a poha and a portion of a berry pancake.
Ashar is served his masala omelette, chicken and steamed vegetables. I ask him if this is his usual breakfast and he nods: "We all are creatures of habit. It is important to eat right.
For breakfast, I eat the same thing. You won't find this on the menu." I am curious to know if he eats food from the hotel every day or cooks in his apartment. "We can cook but we sometimes order food.
I like Indian food but it is too rich in carbohydrates. When I eat out, I like dal chawal, raita and tandoori roti. In India, you can ask for things off the menu and hotels happily get it," he says.
"I have alcohol sparingly — maybe once a month because it's nutritional value is zero." Looking at his lean frame and simple food choices, I guess his other passion in life would be fitness.
The initial years of struggle did not leave him with any time to pursue anything else. It was when he finished his chemical engineering from the University of Toronto and started working full-time (with BP Canada) that he became conscious of the importance of health.
"When I had time to spare, I would run on the jogging track, which was around 400 metres long, but after one or two laps, I would be out of breath."
So he started working on improving his stamina and when he was about 30 he took up running seriously. From 15 minutes to 60 minutes to running a marathon, it was a natural progression.
"It was a good experience. I recognised that there were lots of things in life people could do if they applied good principles to persistence. I have run 80 marathons till now."
A knee operation last year means he can't run any longer, but that hasn't stopped him from urging his colleagues at Cairn India to take up fitness seriously.
Once the basic needs of food, shelter, clothing and health are met, human beings need something more so that they operate close to their true potential, he says.
Two people can be from the same university but a motivated, energetic, innovative employee would be far more productive.
So Ashar got a CrossFit Gym up on the office premises, and three times a week people work out or do yoga at the office cafeteria.
Another set of people run on weekends under a programme called Couch to 5K (km). "It makes the body strong, the mind gets sharper and you become more productive.
One indicator of good health is how many push-ups you can do. An average man should be able to do 40 straight push-ups." Ouch!
In one of his early days on the new job, Ashar met about 25 newly-hired chartered accountants. After talking about the company, he asked them what India's GDP (gross domestic product) was. "Only one hand went up. And she said, '5.5 per cent GDP growth'. These were chartered accountants, smart, clearly very good at memorising, calculating, solving problems but how can a CA not know the country's GDP?"
Ashar finds this lack of knowledge and narrow education scary, especially among Indian engineers and accountants who, he says, lack proper reading habits. Working in India is a personal challenge.
"I struggle with hierarchy."
When he enters a room for a meeting, people stand up.
In Asian societies, young employees will not disagree or talk back to senior managers. In Silicon Valley, it is the young people who are driving the show since they have strong views," he says.
"Young people may not be right always but they are not always wrong either."
Inculcating the habit of reading and taking care of one's health are only two of his messages to his employees; the other, more important is that money isn't everything.
It is important but it will not give you happiness, he tells his people.
Indeed, it is not the perks of the job that made Ashar take over a company beset with problems — including a tax dispute with the government, the extension of production-sharing contracts and high cess. He came back to India for two reasons.
"I wanted to see how this country was going through the economic and social transition. The other thing was to do something for the country in my own small way." Ashar gives away the 'basic' component of his salary every month to charity.
"I work for virtually nothing because I have made enough money. I want to see the country, influence it a little bit and want to have a good work environment where the company does well not just financially but as a good corporate citizen."
Ashar chose to live in a serviced apartment to simplify life. He cites the example of Silicon Valley, where some executives wear the same colours to work every day so that they can concentrate on their work. "I keep my life simple."
So he moved into The Oberoi with his wife and six suitcases in tow. I ask him about the current environment in India and whether the incidents of violence in the name of religion disturb him. He cites Reserve Bank of India Governor Raghuram Rajan and says debate, dialogue and diversity are important.
"It takes courage to say this."
He believes if there is no ethical grounding, the economic engine will come to a grinding halt. China and Nigeria are finding that out the hard way.
"We are free to borrow economics and technology from Silicon Valley but we should be as comfortable borrowing good social ideas from the world over."
I realise we have spent more than two hours discussing the ways of life.
As we part, I ask myself how many corporate leaders I have met are themselves agents of change — rather than waiting for the government to ease things for them.
Image: Mayank Ashar, Cairn India CEO( centre) seen with colleagues.
Photograph: Courtesy, Cairn India