World's largest chip manufacturer Intel is redrawing its strategy to tap the mobile segment. This has been an area where the company has very limited presence, competing with the likes of Texas Instruments, Qualcomm and ARM.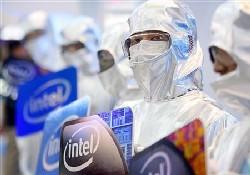 The reasons are pretty evident for the shift in its chip strategy. Apple's iPad that sold 15 million units in 2010, uses ARMs chips. ARM ships almost four billion chipsets every year and two-thirds of the volume is used in mobile phones.

ARM's chip designs dominate the mobile phone market, with nine out of every 10 handsets using them.

Its microprocessor units are used in devices like Amazon Kindle, iPhone, Dell Notebook and Google Nexus One, among others.

So it did not come as a surprise, when during a conference call with analysts and journalists earlier this month, Intel CEO Paul Otellini admitted that they intend to have a larger presence in the tablets and smartphones segment.

In tablets, Otellini said he expected a host of Intel-powered devices to hit the market this year.

Currently, most smartphones are powered by a Qualcomm Snapdragon or Samsung Hummingbird processor or chips manufactured by Texas Instruments.

Acting on its words, Intel has announced that it has 35 design wins for tablets from OEMs, including Toshiba, Lenovo, Dell, Fujitsu, Asus, Acer and Cisco.

R Sivakumar, managing director (sales & marketing group), Intel South Asia said, "We have been working and testing platforms that will make it to the market in 2011 and 2012, ostensibly allowing Intel to soon become a competitor in the smartphone race."

A key difference for Intel over its rivals who use ARM designs is that Intel's Atom platform can run Microsoft's Windows 7 operating system, Google's Android and MeeGo, jointly developed by Intel and Nokia.

Experts at Strategy Analytics remained bullish on Intel. They reasoned, "Intel is expected to feature in Nokia's MeeGo smartphones and tablets in 2012, which we think would be a great psychological boost to counter ARM-based processor vendors."

Intel has announced that it would double its capital spending in 2011 to around $9 billion (globally) and ramp up production of its next-generation 22-nanometer microprocessors, which is expected to give it a major technological lead against competitors.

The India angle

The global decision will transform the India centre too. Getting the mobile device strategy right has been keeping Sivakumar occupied - since India is expected to cross the 750 million mobile subscriber mark in 2011.

Moreover, smartphone sales in India is expected to touch 5.96 million units with total mobile handset sales reaching 155 million units by the end of 2010, said research firm IDC.

The company has even created an internal division comprising more than a dozen employees who are working on the netbook, smartphone and tablet platforms exclusively.

"If we get it right for India, we can also get it right for other emerging but huge markets like Africa," said Sivakumar.

The India centre, which has more than 2,500 employees, is critical for Intel's R&D division, he said.

While revenue from the tablet segment for example, is nominal for Intel, it is being positioned as the next wave in computing.

"We believe that over time the growth of ultra mobile computers will slow the growth of PCs, much like laptops slowed the growth of desktop computers when Wi-Fi offered increased mobility. We believe that the tablet market beyond Apple's iPad is unlikely to take off much before Christmas 2011," reasoned analysts at consumer research firm Piper Jaffray.

Sandeep Aurora, director marketing, Intel South Asia said: "This year, with Atom processors making an appearance in smartphones, operating at very competitive power levels, it should establish Intel's advantages in this most important category." Intel indeed continues to be the dominant force in the about $30 billion computer processor market.

In its FY2011 Outlook, Intel has upped its R&D spends by 11 per cent, largely driven by the company's efforts to accelerate its position in non-PC markets.

The fourth quarter results highlight Asia-Pacific market's importance as it was the largest in the quarter with a 56 per cent contribution.

However, revenues continue to be sluggish, increasing just 1.7 per cent sequentially.

One of the big boosts for Intel in the consumer segment will be integration of last year's acquisitions. It acquired a wireless solutions business of German chipmaker Infineon Technologies for about $1.4 billion that is expected to bring forth the giants offering for the smartphone and tablet segment.

Intel is planning to use Infineon's 3G capabilities in Intel Core processor-based laptops and a myriad of Intel Atom processor-based devices that include smartphones, netbooks, tablets and embedded computers.

"Expansion of mobile and embedded product offerings to support additional customers and market segments, including smartphones, tablets, netbooks, notebooks and embedded computing devices is imperative to Intel," said Aurora.

Further, Intel will also roll out the much talked-about acquisition of security firm McAfee into play with its embedded offering. It will bring in security solutions embedded right into a chipset.

Fine tuning its PC approach

However, the change in strategy does not mean that Intel is in moving away from the PC market.

The company - that revolutionised laptop computing in the early 1990s and makes chips for 80 per cent of the world's PCs - has now set its eyes on giving better graphics to computer users.

"Integrated graphics and built-in accelerators are bound to make Sandy Bridge (second generation of Core processors) graphics outperform low-end discreet graphics cards and result in lower cost for Intel's customers," Sivakumar said it is the best product Intel has ever built.

The products based on the new family of processors will have a significant boost in battery life and overall efficiency in performance, he pointed out.

The new Core i5 and i7 processors include the enhanced Intel Turbo Boost Technology 2.0, said Aurora.

"This feature automatically reallocates processor core and processor graphics resources to accelerate performance giving an immediate performance boost at the user end."

For now, Intel is dedicated to push its new Core processors in the market. R Ravichandran, director (sales), Intel South Asia said, "More than 500 desktop and laptop PCs are expected to be launched based on the new Intel Core processors globally. In India, PCs and laptops are likely to be available from OEMs like HCL, Wipro, MSI, HP, Lenovo, Toshiba and Dell among others as well as from local channel partners."

HCL and Dell have already announced their intentions to launch laptops and PCs running on second generation Core processors.

George Paul, executive vice-president, HCL Info Systems said, "Like any other technology, the first batch of laptops and PCs are going to be costlier than what is available in the market today but we see prices of machines running on new Intel platforms to be within Rs 35,000-Rs 55,000 for most OEMs."

IDC India reported that India's PC market sales (unit shipments) for the first three quarters of the 2010 calendar year clocked 7.4 million units leading to a year-on-year growth of 31 per cent.