Infosys had told the group of ministers it would expand its 100 member team to speed up the bug fixes.
Alnoor Peermohamed reports.
Illustration: Dominic Xavier/Rediff.com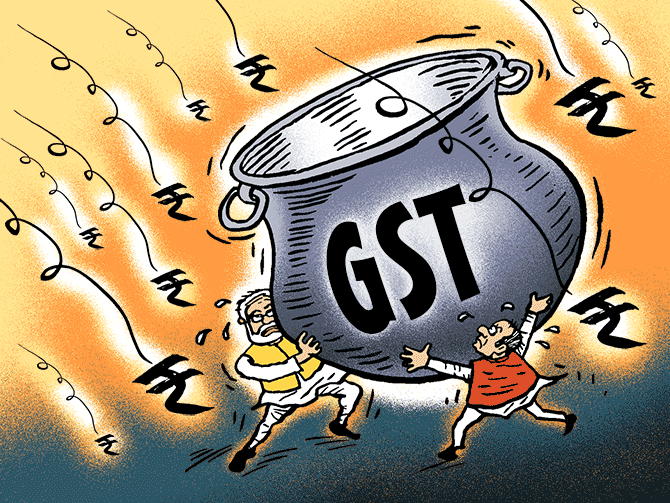 Infosys is yet to fix all the technical glitches on the Goods and Services Tax Network even as the deadline to do so will end on October 31.
The Bengaluru-based software major built the technology network for GST and is also responsible for maintaining it.
Out of the 27 technical glitches on GSTN, that were to be fixed by Infosys by this month end, only 18 of them have been operationalised so far, said the group of ministers mandated to look into the issue.
The GoM, led by Bihar Deputy Chief Minister Sushil Kumar Modi, was formed after states complained about large-scale glitches in the GST network.
In its meeting with the GoM on October 25, Infosys had told the group it would expand its 100-member team to speed up the bug fixes.
According to the GoM, the software company was doing its best and that some glitches were surfacing because of changes made by the GST Council.
At a press briefing in Bengaluru on Saturday, October 28, Modi said: "27 functionalities had to be launched or issues had to be resolved by Infosys, out of which 18 of them have been operationalised. This is about 66.7 per cent success."
"Infosys is doing their best, even though there were many changes made by the GST Council."
At every meeting of the GST Council, suggestions by states are creating newer functionalities that Infosys will need to look into, Modi said.
Given the scale of the GST roll-out and considering how big a change it is, issues will continually crop up and will need to be resolved, according to the Bihar deputy CM.
The GST Council and the GoM now face the challenge of reviewing the invoice matching functionality of the new indirect tax.
At the next GST Council meeting scheduled to be held in Guwahati on November 10, a big agenda will be to identify the new glitches that could come up as the tax regime moves from one phase to another. Invoice matching is expected to be discussed at length during the meeting.
"Invoices have never been matched. Now new types of issues are coming which were not there before. This is such a system, that as we go forward and new functions are operationalised, new issues come up. The GST Council is aware of these issues," added Modi.
In the latest meeting between the GoM and Infosys, the company has been directed to resolve the rest of the issues and also new ones that have cropped up.
No specific deadline has been given though. Each bug fix has its own deadline, and no overall deadline had been put forth to the company.
For July, 5.6 million traders filed returns; the number was 5.3 million in August and 4.6 million in September.
Also, nearly 1 million dealers have not filed any returns, largely due to a misconception that those with no tax liabilities think they do not have to file any returns.
GoM representatives said the group would advise states to educate dealers without tax liabilities to file returns.
Infosys had won the Rs 1,380 crore (Rs 13.80 billion) contract to implement the GSTN and maintain it for five years in September 2015.
GSTN is the largest system of its kind in the world, and while it has been plagued with several issues since its launch, Modi said that those were only teething issues and would be fixed soon.