Q3 revenue growth estimated at 1-3 per cent q-o-q, currency headwinds to weigh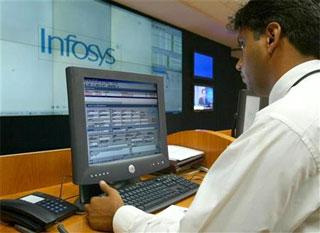 India's second largest information technology (IT) services company, Infosys may be forced to lower its revenue growth guidance for FY15 when it details its earnings for October-December 2014 (Q3 FY15) on Friday, as persistent cross-currency headwinds coupled with the seasonal weakness are seeing weighing on the company's performance.
The Bengaluru-based company had earlier pegged revenue growth for FY15 at 7-9 per cent.

"Cross currency movements will likely have a 150 basis points impact on revenue in 3Q FY15, of which 100 basis points was factored in the guidance. This would imply restated full year guidance of 6.75-8.75 per cent," brokerage firm Motilal Oswal said in a pre-earnings note.
While a majority of brokerage firms believe that Infosys will trim its growth guidance, several others said it might opt for lowering the higher-end of the targeted growth, which it is unlikely to meet.
With most large Indian IT services companies getting close to 70 per cent of their revenues from the US and around 20 per cent from Europe, the fluctuation in currency leads to a major impact on their performance.
During Q3 FY15, the euro, pound and Australian dollar depreciated close to 6 per cent, 5 per cent and 7.8 per cent, respectively, against the US dollar. The currency depreciation will affect the US dollar revenues, as Indian IT services companies convert the other currency revenues into dollars.
"With cross currency headwinds for two consecutive quarters, we believe that dollar revenue growth in FY15 may settle at the lower end of the 7-9 per cent guidance range. We also believe that the historical seasonality pattern (of April-September growth being significantly better than that of October-March) may be less pronounced this year for Infosys," Credit Suisse said in a report.
In dollar terms, Infosys' revenue growth during Q3 FY15 is estimated between 1.0-1.5 per cent sequentially. This is seen translating to around 3 per cent on constant currency basis. Credit Suisse pegs Infosys' sequential revenue growth in dollar terms at 1 per cent, while Motilal Oswal and Kotak Institutional Equities see it around 1.2 per cent. On constant-currency basis, HDFC Securities pegs Infosys Q3 FY15 revenue growth at 2.7 per cent, while Kotak Institutional Equities pegs it at 2.8 per cent.