Investors also appreciate the role being played by the founders; analysts, too, remain unperturbed.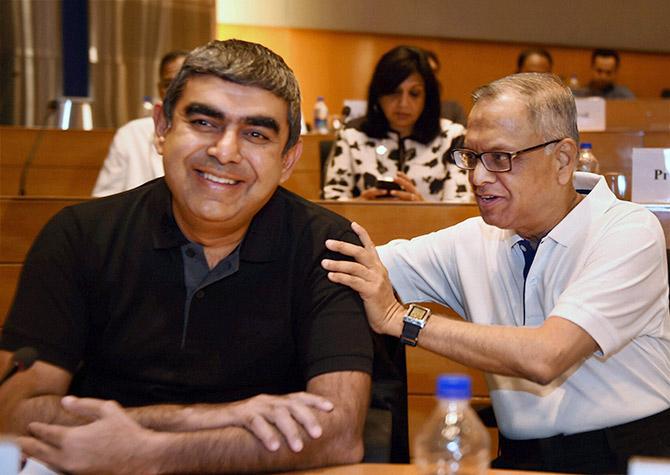 Image: CEO Vishal Sikka with Infosys founder N R Narayana Murthy.
Large investors of Infosys, both in India and abroad, have come out in support of Chief Executive Officer Vishal Sikka, and said the promoters and board of directors should back him to execute his strategy.
They have also asked for clarification on the role of founders not associated with the company in an executive role, while appreciating what they'd done to improve corporate governance. They said they were hopeful the current imbroglio would be resolved easily.
An official at Life Insurance Corporation, which owns 6.6% stake in the company, said it would seek comments from the management on the charges made by founder N R Narayana Murthy on governance issues. Especially on the high severance package to former chief financial officer Rajiv Bansal of 24 months' salary (Rs 17.38 crore) as compared to three months' salary.
The auditors' report for 2015-16 does not contain any qualifications, reservations or adverse remarks against this payment, the LIC official said.
Adding that according to the State-owned insurer's policy, it would not unsettle the present management, led by Sikka, unless nudged by the government to do so.
Infosys founders, led by Murthy, have said they were concerned about the large payment and other actions of the board.
The LIC official declined to comment on whether or not it would support R Seshasayee. Former directors Mohandas Pai and V Balakrishnan have called for his resignation, over alleged governance issues and disclosure lapses.
Among foreign portfolio investors (FPIs), the OppenheimerFunds, which owns a little more than 2% in the company, said in the past 10 years, it had witnessed patches of unusual turmoil in management and vision at Infosys, with share price performance signalling shareholder exhaustion with internal dissonance, management volatility and internal intrigue.
"We have been enormously pleased to see the stabilising hands of Vishal Sikka, who has improved underlying operating performance and begun to articulate a coherent strategy to a firm beset by a host of structural challenges to the aging offshore information technology service industry," Justin Leverenz, portfolio manager of Oppenheimer Developing Markets Fund, said in a letter to the Infosys board.
Managers of India's equity mutual funds (MFs), who own shares of Infosys worth Rs 16,500 crore, have taken a neutral stand on the events unfolding at the company as far as their investments in the stock are concerned.
"Prima facie, I do not see any alarm at the recent developments. The issue is not big and can be easily resolved. The CEO has to be given more time. We had been adding Infosys shares in our portfolios over the past few months, since it slipped below the Rs 1,000 mark," said a chief investment officer, who did not wish to be named.
Investors also appreciate the role being played by the founders.
According to a senior MF executive, "Murthy has made it clear that he would not interfere with the Infosys management but will pinpoint if there is any issue in the corporate governance. I think it is clear that the founders respect the current CEO and are acting as watchdogs if something is not up to the mark. What more clarity would investors like us want? Problems in corporate governance have been brought into the limelight and will be addressed well. There is no reason for us to be concerned. There is no question of liquidating Infosys at this stage. The company is good and we have no alternative for it in our holdings."
Investors have reasons to be happy, as the shares have gone up by 14% as compared to the BSE Sensex, up 11%, since Sikka became CEO in August 1, 2014.
According to regulatory filings on stock exchanges as on December 31, the top investors of Infosys include LIC, followed by the Government of Singapore (2.4%) and Oppenheimer Developing (2.13%).
Among domestic institutional investors, HDFC Mutual Fund, ICICI Mutual Fund and ICICI Prudential Life Insurance are the major shareholders, owning between 1.2% and 1.5% stake.
While the founders own 12.7% stake in the company, FPIs own 39%, domestic insurance companies own 11.3% and Indian MFs own 7.4% in Infosys. American depository receipt (ADR) holders accounted for 16.8% of the equity, and BlackRock owns 5% stake through by ADRs.
Analysts, too, remain unperturbed.
"We believe, this (controversy) should not weigh on the stock. Sikka wrote to employees that the company is performing in line with the industry despite challenges and given its new strategy led by IP creation and non-linear growth it will come out a winner in the long run. Sikka has led Infosys back to its lost glory after his appointment," said a report by Maybank Kim Eng Securities giving a "buy" rating on the stock to its institutional clients.
---
Ex-directors want Infy chairman to resign
Ayan Pramanik & Raghu Krishnan
Infosys Chairman R Seshasayee came under fire on Friday with two former directors, T V Mohandas Pai and V Balakrishnan, publicly asking him to step down over alleged governance issues and disclosure lapses. The company remained silent on the charges.
The pressure intensified with founder N R Narayana Murthy pointing a finger at Seshasayee. Murthy also criticised the high compensation package of Chief Executive Officer (CEO) Vishal Sikka (Rs 49 crore annually), and high severance packages of former chief financial and chief compliance officers Rajiv Bansal and David Kennedy, respectively. The company has claimed it followed governance norms in these decisions.
Pai and Balakrishnan also supported Murthy's choice of naming Marti Subrahmanyam, Charles E Merrill Professor of Finance at the New York University Stern School of Business, as co-chairman of the company. He served as independent director on the company board for 13 years till 2011.
Both former Infosys directors, Murthy and proxy advisory firms such as InGovern have complained about the dilution of corporate governance norms in the company, since Sikka took over as CEO in August 2014.
"In Kannada there is a saying: If you sit under a toddy tree and drink milk, people will think you are drinking toddy. Therefore, it is very important for us not only to do the right thing, but also to be seen doing the right thing. That is the whole issue," Murthy told television channel CNN News18.
Murthy first raised the red flag on the severance package to Bansal a year ago. On Friday, he said Bansal had been given 30 months' salary of Rs 24 crore, but the company on Thursday had claimed Bansal was given Rs 17.38 crore, amounting to 24 months of his pay.
One board member, who wished not to be named, said the situation is explosive and board is alive to issues. The company is in process of communicating with stake-holders including investors.
The member declined to elaborate on issues of compensation.
The company got a clean chit from an independent investigation done by Mumbai-headquartered law firm Cyril Amarchand Mangaldas. The same law firm has been hired to engage with shareholders, including the founders, on governance lapses. Infosys has maintained that it complied with fiduciary duties and adopted good governance norms.
"There is no need to bring in a legal firm to intermediate between the founders and the board. It is the board's job to directly engage with the large investors, whenever there is a concern," said Balakrishnan. "My advice as a shareholder will be that the chairman should step down and they should have an interim chairman who engages effectively with the founders and addresses all the concerns."
Murthy did not respond to repeated emails and calls for comment. Infosys did not comment on the charge by the former directors. An email sent to Seshasayee remained unanswered.
"The report of the nomination and remuneration committee, in the company's 2016 annual report, does not say anything about the severance package given to the former CFO. It is a very important matter, the company should write about it. When a CFO leaves, the audit committee has an obligation to meet him individually and ask if there is anything wrong," said Pai.
The board, headed by Seshasayee, had "treated me and V Balakrishnan" shabbily, he added, when they wrote to the company for a share buyback.