Larsen & Toubro, India's largest engineering and construction company, reported a 12.5 per cent fall in its net profit at Rs 756 crore for the quarter ended June

When Larsen & Toubro (L&T), India's largest engineering and construction company, with a turnover of $14 billion, reported a 12.5 per cent fall in its net profit at Rs 756 crore (Rs 7.56 billion) for the quarter ended June, it was clear the economic slowdown had taken a toll on infrastructure companies. Project bottlenecks, largely due to problems in acquiring land, and high funding costs have seen investments in the infrastructure sector decline.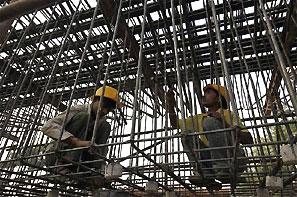 L&T's engineering procurement and construction (EPC) business is spread across transportation, building and factories, besides power transmission and distribution.
"The situation is very challenging on the ground," said K Venkataramanan, the company's chief executive and managing director. "In the Indian context, the next two years look quite challenging."

Now, the company is aggressively looking at foreign markets. In the quarter ended June, its foreign sales rose 68 per cent to Rs 3,378 crore (Rs 33.78 billion), accounting for 26 per cent of its Rs 12,704-crore (Rs 127.04 billion) turnover.
"Internationally, the sentiment is good. The real issue for us is to gear up to be able to execute well and maintain good margins," said Venkataramanan. During the quarter, the company's international order book increased 16 per cent, accounting for 12 per cent of the overall order book of Rs 1.65 lakh crore.

Anil Ambani-promoted Reliance Infrastructure, which is developing projects across the roads, metro, rail and airports spaces, also recorded a dismal performance during the quarter. Its net profit rose a meagre 0.8 per cent to Rs 415.2 crore (Rs 4.15 billion); revenue increased 1.3 per cent to Rs 5,452 crore (Rs 54.52 billion).
Revenue from the company's EPC business fell five per cent to Rs 1,670 crore (Rs 16.7 billion), compared to the corresponding period last year.
Earnings before interest and tax margin of the EPC business fell 130 basis points to 8.6 per cent. At the end of the quarter, the company's order book of Rs 8,890 crore (Rs 88.9 billion) was just 1.1 times the revenue earned from the EPC business in 2012-13, showing near-flat growth in this business.
However, the company expects to see growth in the road, metro and airport projects it developing on a build-operate-transfer (BOT) basis. Its revenue from this business grew 83 per cent to Rs 180 crore (Rs 1.83 billion) in the quarter ended June.
"We expect the company's infrastructure revenue to continue growing at a higher rate, driven by the likely completion of its ongoing infrastructure project portfolio in FY14," said Amit Srivastava, analyst at brokerage Nirmal Bang Equities.
Currently, nine Reliance Infrastructure road projects are generating revenue, and it is expected two more road projects would be commissioned this financial year. Besides, the Mumbai metro rail project is expected to be commercially launched soon. New BOT road projects require investment from private entities, to be recovered through the concession period.

"Traffic on various roads has dropped 15-20 per cent because of slowing economic activities," says N Sivaraman, president, L&T Finance Holdings, a non-banking financial company that funds infrastructure projects.
"Iron ores are not going out, coal imports are going down. The shrinking heavy vehicle toll is affecting revenues from such projects."
The economic slowdown has made it difficult for companies to record financial closure of a few awarded projects. Highway construction company IRB Infrastructure is an example. The company's Rs 7,660-crore (Rs 76.6 billion) order book includes the Goa-Kundapur road project, which is yet to achieve financial closure.

"We do not expect execution (for this project) to start before the third quarter of FY14. This, according to our estimates, would lead to a year-on-year decline in the EPC revenues for the company in FY14 and FY15," said Vibhor Singhal, analyst at foreign brokerage Phillip Capital.
The company reported a five per cent decline in net profit at Rs 135 crore (Rs 1.35 billion) in the quarter ended June; its revenue rose five per cent to Rs 1,032 crore (Rs 10.32 billion).

IL&FS Transportation, a leading road construction company operating on a BOT basis, blames the government's policy paralysis for the low number of projects to be bid for.
"Last year, we heard a lot of noise on inter-governmental rivalry — forest and environment versus transport, Planning Commission versus transport, Planning Commission and finance versus transport, the transport industry versus the finance ministry, versus everybody else. I don't think this has done well for the sector," K Ramchand, managing director of IL&FS Transportation, said.