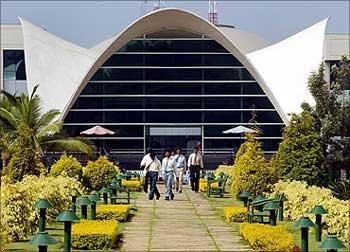 Shares of Infosys on Thursday dropped by over 8.5 per cent, eroding Rs 17,997 crore (Rs 179.97 billion) from its market value, as the company expects sluggish growth in the January-March quarter due to muted spending by clients, especially in the retail sector.
After falling 9 per cent to Rs 3,340 in intra-day trade, the IT major's scrip finally ended at Rs 3,357.50, down 8.54 per cent at the BSE.
On the NSE, the stock slumped 8.45 per cent to close the day at Rs 3,361.
Following the sharp decline in the scrip, the market capitalisation of Infosys tanked by Rs 17,997 crore to Rs 1,92,799 crore (Rs 1.92 trillion).
The bellwether scrip was the worst-hit among the blue-chips on both the key indices -- Sensex and Nifty -- during the early trade.
Dip in the heavyweight stock was instrumental in sending the BSE benchmark Sensex down by 81.61 points to close at 21,774.61.
Infosys CEO and Managing Director S D Shibulal said muted growth in the fourth quarter of 2013-14 may spill over to the next financial year also.
"At the beginning of the quarter (Q4) we gave guidance for FY 2014, several factors may result our revenues to be near the lower end of guidance," he said at a Barclays investor meet.
"At the broad level some of our clients have seen slowdown in their business, these are across various verticals leading to unanticipated project ramp downs and cancellations in Q4.
"We have also seen some challenges in skill miss-matches between skills that clients need and what we have which has led to slowdown in ramp-ups. These factors are leading to decline in business momentum for us during the quarter," Shibulal added.
Infosys had raised revenue growth forecast to 24.4-24.9 per cent for the financial year ending March 31, 2014 from 21-22 per cent estimated earlier.
© Copyright 2022 PTI. All rights reserved. Republication or redistribution of PTI content, including by framing or similar means, is expressly prohibited without the prior written consent.