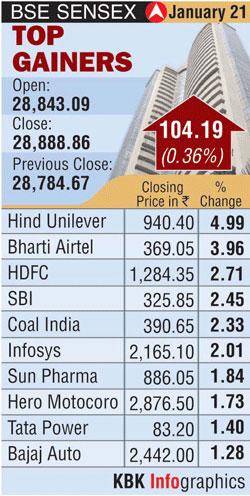 Rising for the fifth day in a row, benchmark BSE Sensex today set a life-time high of 28,958 points and NSE Nifty recorded a historic 8,741 points as overall macro outlook and optimism over forthcoming Budget continue to buoy investor sentiment.
In more of stock-specific trade rather than broad-based, 18 of 30 Sensex scrips ended higher, while 12 finished lower.
"Today again the market players have preferred to trade/invest in core economy related sectors like PSU banks, oil and gas stocks and finally capital goods and infra stocks.
Unexpected support from HUL and Hero Motors has helped the market to sustain high level," said Shrikant Chouhan, head, Technical Research, Kotak Securities.
Jignesh Chaudhary, head of research, Veracity Broking Services, said markets are also anticipating European Central Bank to unveil stimulus package this week.