The political class may be dithering over increasing fuel prices, especially diesel, fearing it might have a cascading effect on the already high inflation rate.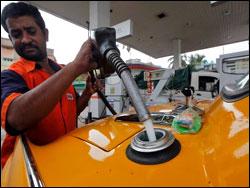 But if diesel prices are matched with the market rate at the retail end, the net impact on the general price level may not be too high.
Nevertheless, given India's low average salaries and large number of jobs in the informal sector, even a small spike in inflation can put poor consumers at risk, says a study by Global Subsidies Initiative (GSI) in collaboration with the National Institute for Public Finance and Policy (NIPFP).
Diesel prices include a relatively minor fiscal subsidy. However, under-recoveries see a combination of the government, national upstream oil companies and oil marketing companies covering 25 per cent of the price.
"Eliminating this 25 per cent under-recovery in diesel prices would lead to around a one per cent rise in general price levels," said the study released on Monday by the Geneva-based GSI. This premise is based on the weight of diesel in the wholesale price index. A 10 per cent increase in diesel price would raise the general price level by 0.47 per cent. A 25 per cent increase would therefore be commensurate with a price level rise of 1.2 per cent.
Public road transport would be one of the most affected sectors that will see an eight per cent increase in costs; and goods/freight transport costs would rise 10 per cent.
Rail transport costs would rise 2.5 to 3.5 per cent, and the industry costs would rise by an average of 0.25 per cent. In the agriculture sector, the costs of cultivating wheat would rise 2.75 per cent and sugarcane 0.75 per cent.
As against the current practice of annual increases in the price of diesel, the study says vulnerable consumers will be better able to adjust if the under-recoveries are gradually eliminated, perhaps allowing prices to increase by an average of Rs 1 per litre over one or two steps a month, over a year or more.
The government may wish to retain flexibility to increase the prices more when inflation is seasonally low and ensure that key consumer goods and staples are available at these times.
"The government should consider direct compensation to businesses that will struggle with higher diesel prices in the short term. This includes public transport companies, which may have little or no control over increasing fares or reducing input costs," the report says.
In the short term, the diesel price could progressively be decontrolled by eliminating the under-recovery over a period of around one year. This could be at a fixed rate of around Rs 1 per litre each month, or vary with higher reductions in the under-recovery when specific conditions are met (decreasing international prices or decreasing inflation, etc), the report says.