India-Pak face-off saw brands pay up to Rs 20 lakh in last-minute spot buying, during the ICC Cricket World Cup.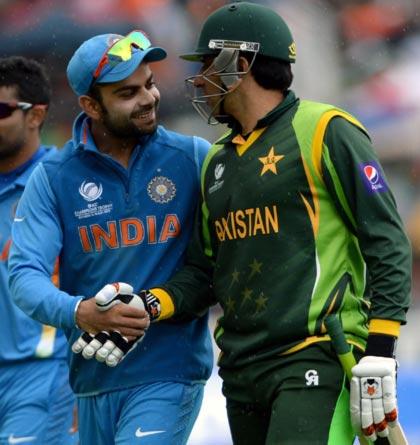 Image: Virat Kohli speaks to Pakistan captain Misbah-ul Haq.
Photograph: Getty Images
When the Indian team toured Pakistan in 2004, it was not only an emotionally charged series but a major money-spinner for their cricket board.

A bankrupt body before the series, the Pakistan Cricket Board (PCB) reported a profit in excess of Rs 200 crore (Rs 2 billion) that year. Such is the monetary opportunity an Indo-Pak series offers.
These are the dividends the boards involved - PCB, Board of Control for Cricket in India (BCCI) and the Sri Lanka Cricket Board (SLCB) - will look at reaping, if India faces off with Pakistan in December in Sri Lanka.
Talks of a bilateral series between the two traditional rivals have been doing the rounds for a while.
Then Pakistan Prime Minister, Nawaz Sharif, approved and Rajeev Shukla for the BCCI went on record to confirm it.
Who benefits more? While PCB will be looking at massive sponsorship revenue from on-ground partnerships and gate money, SLCB will earn rent for providing the grounds. BCCI will be paid a designated sum for participating.
And, there is Zee Entertainment Enterprises Ltd's Ten Sports, which holds the broadcast rights to any series hosted in Lanka (and in Pakistan). It gains because it earns lucrative advertising money.
And this is despite the matches being held at a neutral venue. Pakistan will also be considered the host nation, say experts.
Since the agreement between BCCI and PCB during N Srinivasan's regime states the Indian players will tour our north-west neighbour, PCB is officially the host board and has claim to marketing rights, they say.
"It's a win-win for all. PCB, being the host nation, will see revenues flowing in from the broadcast rights, on-ground sponsorships and gate money. The series comes at a time when the political atmosphere in both nations is charged and this will guarantee more eyeballs. An India-Pak series is always among the top-watched in India and the whole sub-continent, in fact," says Indranil Das Blah, operations head and partner at CAA KWAN, a sports and celebrating management company.
Advertisers are excited. "Despite it being off-season for us, we will still evaluate investing on the India-Pakistan series because it is a big opportunity to make ourselves visible to our target group. I wouldn't want to miss it. I don't think anybody would," B Thiagarajan, executive director and president, air-conditioning & refrigeration products business, Blue Star, said.
Cricket while being male-skewed, is still considered the widest in terms of appeal and reach among sports in the Indian sub-continent.
So, not only men, but also women, children, youth and senior citizens watch crucial games and tournaments, experts say.
Executives at Coca-Cola, however, indicate that the "devil is in the detail". "It is a good opportunity, but advertiser investments would come once the details about the format and timing of matches becomes clear," a Coca-Cola executive said.
PepsiCo, which exited the title sponsorship of the Indian Premier League last month, was not available for comment. Samsung, another prominent television advertiser, said it would not be able to offer a comment just yet.
But Eric Braganza, president, Haier Appliances India, said his firm would take a call on advertising during the series. "Haier Pakistan is quite active on the advertising front when the Pakistan team is playing within the country or outside. But here, you have an India-Pakistan series, which is coming after a while. Yes, we will take a call on this," he said.
While the BCCI and PCB are yet to make a formal announcement about the duration and format of the series, sources in the know reveal the two teams will play each other in a limited-over format (which means either one-dayers or T20 matches or a combination of the two).
Currently, South Africa is touring India and the last Test match is expected to conclude on December 7. India then heads to Australia for a five-match One-Day International series, starting January 12.
This leaves the two boards a narrow window of five weeks and to monetise the series to the maximum, a limited-over format seems the way to go.
That will also mean clutter, some advertisers say. "No one will want to miss an India-Pakistan series. But you have to bear in mind that advertising inventory is finite. So companies will have to be ready to shell out big bucks. We will evaluate whether all of this works within our scheme of things," Shashin Devsare, executive director, Karbonn Mobiles, said.

During the ICC Cricket World Cup in Australia and New Zealand earlier this year, advertising rates for the Indo-Pak tie were among the highest charged by STAR Sports, the broadcaster for the tournament.

The average rate for an India match was Rs 10-13 lakh for a 10-second spot (depending on the opponent and stage of the tournament) but the India-Pak face-off saw brands pay up to Rs 20 lakh in last-minute spot buying.
Pitch perfect
India last toured Pakistan in 2004. This is the year PCB went from being bankrupt to reporting profit in excess of Rs 200 crore
The two teams played a Test match in 2007, when Pakistan toured India
The two teams last played a bilateral limited-over series in 2012, when Pakistan toured India
Ten Sports is looking at massive advertising revenues from the series.
Sources say the ad rates for a 10-second spot could skyrocket, considering the World Cup tie between the two nations saw spends in the range of Rs 15-20 lakh per 10 seconds
India-Pakistan matches are rated in the high teens (TRPs) on Indian television